Looking to get away in Los Angeles? The sparkling blue waters of the Pacific Ocean, the majestic mountains, and the bustling cityscape make for the perfect backdrop for an Airbnb in Los Angeles. From a stunning Spanish-style villa to an urban farm retreat, to an airstream nestled in nature, to a mid-century, modern luxury retreat, you will have no problem finding unique Airbnbs in Los Angeles. We have provided a quick tour here of twenty of the best Airbnbs in Los Angeles you'll be adding to your bucket list. You will not be disappointed by the amazing amenities, exclusive features, exquisite details, or scenic locales. Come along and explore with us.
Best Airbnbs in Los Angeles at a Glance
Planning a California road trip? Check out our other roundups of gorgeous Airbnbs in California.
Unique Airbnbs in Los Angeles – Best Of
Most Romantic: Rustic Space in the Hollywood Hills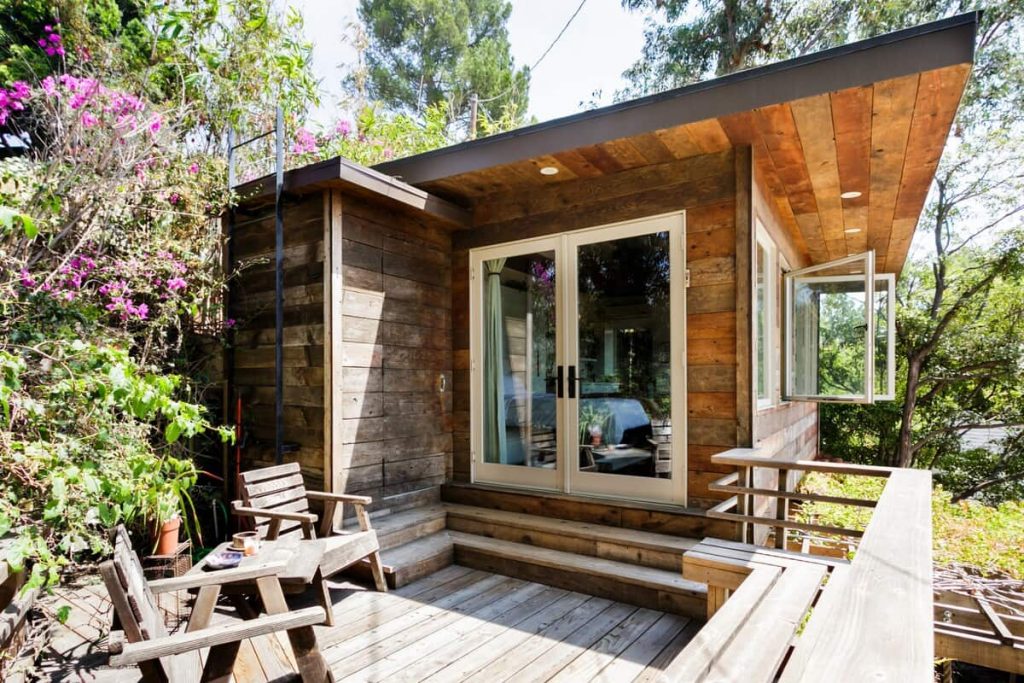 Hollywood Hills, Los Angeles
Relax and recharge in this light and airy guest suite located in the Hollywood Hills. You will enjoy great panoramic views of Los Angeles and the ocean while staying at this cozy location with one bedroom and one bathroom. This private get-away offers a beautiful free-standing bathtub, a kitchen, and an inviting queen-size bed. You can almost envision a screen-writer writing their next great script when you walk into this peaceful space. Not that ambitious? No problem, it's a great place to relax and recharge too.
Best for Groups: Hollywood Golden Age Terrace
Hollywood, Los Angeles
You will be mesmerized when you step into this secluded paradise. From 25 foot high ceilings to the grand white fireplace, and the long wrought-iron staircase, you will love this two-bedroom, 1 ½ bath space reminiscent of Old Hollywood. Take a dip in the 1930s blue mosaic-tiled pool, write your next book at the sunny little desk overlooking the outdoors, or enjoy a cocktail on the outdoor terrace. This property is beautifully decorated and has all the comforts of home that will make for a perfect stay.
Best Luxury Airbnb: The Houdini Estate
Hollywood Hills, Los Angeles
You will feel transported when you cross through the gates to this magical hillside estate located on five acres. The expansive and historic Houdini Estate is a four-bedroom, 4 ½ bathroom property with outstanding amenities like a heated indoor pool and hot tub, romantic gardens, hours of hiking trails, a natural three-story waterfall, and three fireplaces. You will feel comfortable in the traditional furnishings of this home while you explore all the unique spaces like the hidden passageways. You and your guests are promised a truly unique experience on this property.
Most Eco-Friendly: Cactus Flower Solar Guest House
Venice Beach, Los Angeles
You will be mesmerized by this modern solar retreat. This one bedroom, one bathroom property has a mid-century modern vibe and embodies sustainable living with solar electric power, solar radiant heating, and organic bedding. Whip up a meal in the fully-equipped galley-style modern kitchen. Spend some time sipping coffee on the little patio outside of the bedroom. Enjoy the outdoors in the cactus garden with comfortable seating and an outdoor fireplace, or cozy up in the family room in front of the indoor fireplace. When you are ready to explore, you will love The Cactus Flower's proximity to restaurants and grocery stores.
Most Unique: Hollywood Hills Castle
Hollywood Hills, Los Angeles
You will feel like royalty when you step into this Hollywood Hills castle. From the stone-arched entryways to the vaulted exposed beam ceilings, to the exquisite furnishings throughout, you are in for a rare treat. This two-bedroom, one bath home has everything you need to feel spoiled from an outdoor pool, tub, and firepit, to a well-equipped kitchen, a large Moroccan-inspired rain shower, and claw-foot soaking tub. Although this property feels extremely quiet and private, you are just minutes away from West Hollywood, the Sunset Strip, and Studio City.
Best Airbnbs in Venice
Charming Craftsman
Venice, Los Angeles
You have found an oasis of calm right in the middle of Venice Beach. From the vine-covered interior walls, to the outdoor bathroom and shower, you will be enchanted by this rustic, yet cozy property. Open the French doors to a lovely little garden with lounge chairs. Enjoy the amenities of a kitchenette, a nice queen size bed, and a twin/couch bed for a guest. There is plenty to do in the area with a quick bike ride to Venice Beach.
Best Airbnbs in Hollywood Hills
Stunning Spanish Villa
Hollywood Hills, Los Angeles
Check out of the hustle and bustle of Los Angeles, and check into this authentic, immaculately-appointed, 1920's Spanish Villa Duplex located in the Hollywood Hills. This two-bedroom, one-bathroom property is tucked away in a charming neighborhood – perfect for unwinding after a day of sightseeing. This space boasts white oak floors, French doors throughout, a full gourmet kitchen, an elegant dining area, and a rain stone shower. You'll love sipping your morning coffee on the patio or taking an afternoon siesta on one of the outdoor lounging chairs.
Hilltop John Lennon Home
Laurel Canyon, Los Angeles
This beautiful hilltop escape was inhabited by none other than The Beatles' legend John Lennon, and his wife Yoko Ono in the 70s. It's no wonder this is one of the most sought after Airbnbs in Los Angeles. Take your own private tram up to this remarkable home in Laurel Canyon. This space is like no other with its Danish mid-century furnishing, brand new kitchen and bathroom, four private terraces, and breathtaking views. Enjoy plenty of space for you and guests with three bedrooms and 1 ½ bathrooms and indoor and outdoor dining. And when you need a little break, take a nap on the outdoor hammock.
Best Airbnbs in Topanga
Topanga Retreat
Topanga, Los Angeles
Perched above the Santa Monica Mountains sits a special Los Angeles Airbnb that looks like it came straight out of an architecture magazine. This Airbnb is an ideal base for various activities, including hiking, mountain biking, horseback riding, surfing, paddleboarding, you name it. The home is spacious with high ceilings and its mix of wood and glass walls gives the space amazing light.
Crystal Cabin
Topanga, Los Angeles
Get away from the city and step into a romantic oasis in Topanga Canyon. This one bedroom, one bath studio is a thoughtfully appointed retreat to rest mind, body, and soul. The cabin has a newly built modern kitchen, an open ceiling with exposed beams for a vaulted look, and original stained glass windows. Sit on the patio and enjoy the great outdoors, or take a long nap on the hammock.
Cottage in the Oaks
Topanga, Los Angeles
You will love your private get-away at this remarkable cottage in Topanga. This one bed, one bath studio is nestled in three acres of woods, yet within five miles of all the amenities of Calabasas, and five miles from the ocean. This light and bright cottage is decorated with antique treasures from around the world, and has an eclectic and comfortable vibe. Cook a delicious meal in the well-equipped kitchen and enjoy it under the stars on your own private and spacious deck.
ShangriLaLa Tiny House Mountaintop Getaway
Topanga, California
Immerse yourself in nature in this tiny treehouse perched within the mountains of Topanga. Enjoy this restorative, one bedroom, one bathroom property where the indoors and outdoors become one. Shower under the stars in the hot outdoor shower, or bathe in the hot oakwood bathtub. Enjoy a little yoga on the wooded yoga deck, or simply relax on the chair swing. This tranquil property features floor to ceiling windows, a bedroom loft upstairs, and a thoughtfully equipped kitchenette overlooking the woods. In case you need to do a little work, there is a nice little work station too.
Best Airbnbs in East LA
Hip Historic Craftsman-Style Guest House
East LA, Los Angeles
If you are looking for an impeccably decorated, spacious, light-filled get-away, you will want to book this 1920's craftsman-style guest house. Located near the Los Angeles River, the exterior is brick industrial, and the interior is open and spacious with an exposed beam ceiling. This one bedroom, one bath property features a kitchenette with convenient offerings like a toaster oven, a portable electric cooktop, and a microwave. Guests are invited to take full advantage of the fire pit and pool with a hot tub.
Wolford House
North East LA, Los Angeles
Once you step into this hilltop retreat, you may never want to leave. This tranquil mid-century, two-bedroom, one-bathroom property was designed by Jim de Long, a student of Frank Lloyd Wright. The architecture boasts floor to ceiling windows, remarkable views of Los Angeles, and an expansive brick paved outdoor area. You will find all the comforts of home in this rustic, yet sleek, home with a fully-equipped kitchen and a washer and dryer. Cozy up with a glass of wine in front of the fireplace, or dine under the stars while enjoying the lights from the city.
Skyfarm
East LA, Los Angeles
Experience a country-in-the-city lifestyle with this urban-farm experience just 10 minutes from downtown Los Angeles. As you interact with the cute farm animals, soak in the outdoor solar-powered hot tub, and cook your meal in the outdoor kitchen, you will simply forget how close you are to the city. This Bohemian-style property is styled after a Mongolian nomadic dwelling with one large circular room. You will love the big windows, chic white interior, glamping bathroom, and rainbird spa shower. This space is perfect for your kiddos too with two extra bed cushions.
Best Airbnbs in Malibu
Malibu Mid-Century Modern Luxury Retreat
Malibu, Los Angeles
You will feel as if you have stepped into paradise with this Los Angeles Airbnb's amazing, panoramic views of the ocean and mountains, stunning mid-century architecture, luxurious decor, and gourmet kitchen. You and your guests will have plenty of room to roam in this three-story, four-bedroom, 3 ½ bathrooms get-away in Malibu. The kitchen is a great place to congregate with the huge island seating. Wake up to a spectacular sunrise, take a bath overlooking the ocean in the master bedroom's in-floor hot tub, and enjoy a cocktail while overlooking the ocean in the outdoor seating.