When you're planning a vacation, it can be hard to choose the perfect place. Especially in a state as beautiful as North Carolina, where there are so many options to choose from.
In North Carolina, you're certainly spoilt for choice, whether you want a family-sized house on the beach or a romantic cabin for two in the forests along the Blue Ridge Mountains. So we've rounded up some of the best Airbnbs in North Carolina, so you don't have to make the tough decisions all on your own. Here are a few of the best listings in the area.
All listings featured in this article are carefully selected by our editors. We may earn a commission when you buy something through our links at no cost to you.
Best Airbnbs in North Carolina at a Glance
Check out our other roundups of the best Vrbos in North Carolina.
Beautiful Airbnbs in North Carolina – Best Of
Most Romantic: Glass Treehouse Unique Couples Retreat
Banner Elk, North Carolina
If you're looking to take some time off with your beau, look no further than the Glass Treehouse. This Airbnb is also stocked full of amenities, ensuring you have everything you need during your stay. The treehouse comes with two decks and a private hot tub, so you can enjoy the tranquil forest atmosphere and the sound of cascading waterfalls with perfect peace of mind.
Read next: 23 Dreamy Treehouse Glamping Rentals You Need to Experience
The Most Unique: The Nook – Hyperlocal AVL
Swannanoa, North Carolina,
This Airbnb isn't just a lovely hideaway in the forest. The Nook is truly a one-of-a-kind when it comes to Airbnbs in North Carolina. Almost every part of the building, and the objects and furniture inside, were lovingly hand-crafted by local artisans from local materials. No detail was overlooked in the making of this precious tiny house, so don't miss the chance to stay in a genuine work of art.
Best for Families: The Bohemian Beach Haven
Photo credit: Airbnb
Carolina Beach, North Carolina
Situated at the north end of Carolina Beach, The Bohemian is a beachfront property well-designed to maximize the stunning views over the North Atlantic. With a spacious patio and a 2-minute walk to the water, this is the ideal Airbnb choice if you want to make the most of a summer getaway with family or a group of friends.
Best Luxury Airbnb: Gorgeous Modern Mountain Design – The Cloud Nine
Candler, North Carolina
This three-bedroom property offers some of the most breathtaking views in Asheville. It is also close to all kinds of outdoor activities you can enjoy, from hiking and ziplining to more lowkey things like swimming in nearby waterfalls and visiting the local wineries. After an exciting day, you can sit back, relax and watch the sunset over the hills of North Carolina.
Best Airbnbs in North Carolina Piedmont
The Lodge on Hyco
Roxboro, North Carolina
The Lodge On Hyco Lake is built to provide a dream getaway for a large group of family or friends, whatever the season. This stone and timber home features masterful woodwork, making it a visual feast for whoever is lucky enough to make a reservation. The property also includes an elegant boathouse you can use as a comfortable base while you explore the waters of Hyco Lake (kayaks provided).
The Carolina Treehouse
Charlotte, North Carolina
This tasteful treehouse may not be a throwback to childhood, but it will certainly fulfill your grown-up expectations. This three-tiered home is designed beautifully inside and out and comes with a plethora of extra features to give you the most during your stay. At this charming property, you'll have access to the nearby lake and private dock, as well as a swinging outdoor bed where you can enjoy the tranquility of nature long into the night.
Luxury Stone and Timber Treehouse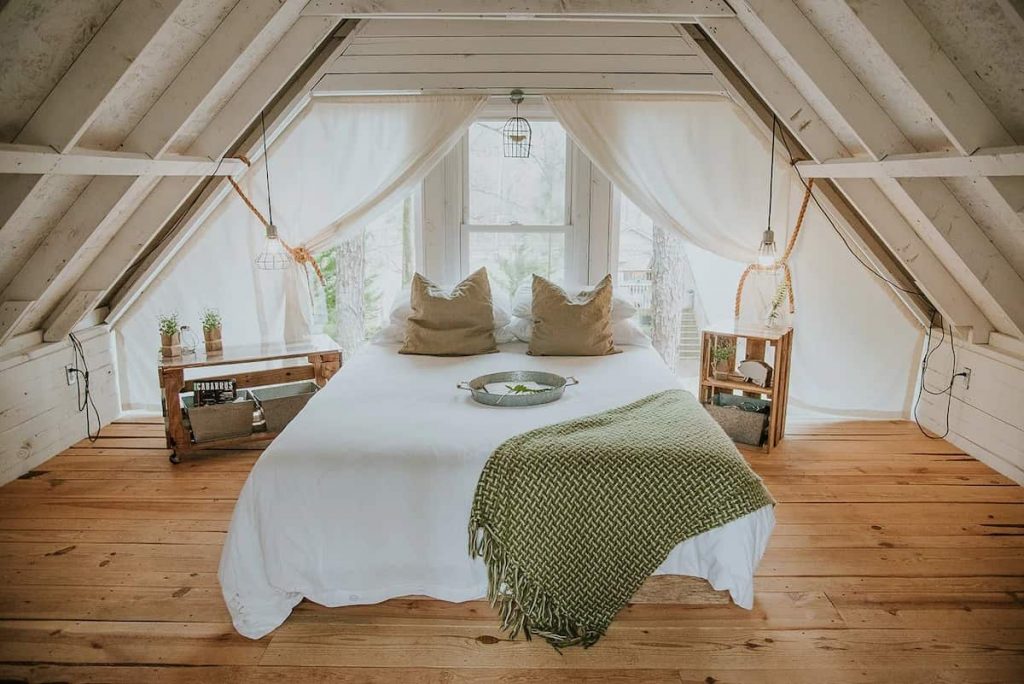 Concord, North Carolina
This delicate triangular treehouse is your chance to have a once-in-a-lifetime "glamping" experience, by yourself or with a loved one. Curl up on your private deck and bask in the coziness of your own little forest space. And if you're looking for more company, you can even visit some of the farm animals who live on the property! You also have access to an above-ground pool, open fire pit, and 7-person hot tub.
Modern Tiny House in the Trees
Durham, North Carolina
Want to make your escape into the wilderness, but still have your creature comforts and modern amenities? This elegant tiny house offers just that. Take a deep breath and bask in the tranquil forest surroundings, while knowing that a fully-equipped kitchen laundry, air-conditioning, and fast wi-fi are just a few steps away.
Best Airbnbs in North Carolina Mountains
Raven Rock Cabin
Fletcher, North Carolina
Tiny houses and alternative living are all the rage, and the Raven Rock Cabin is a great opportunity to join the zeitgeist. This sweet little cabin offers a well-designed, open space with an impressively-sized balcony where you can enjoy your morning coffee or stargaze at night. Its location is especially unique – perched sturdily atop a jutting rock face, it's the perfect spot to gaze out at the panoramic views of the valley below.
Log Cabin with Views and Hot Tub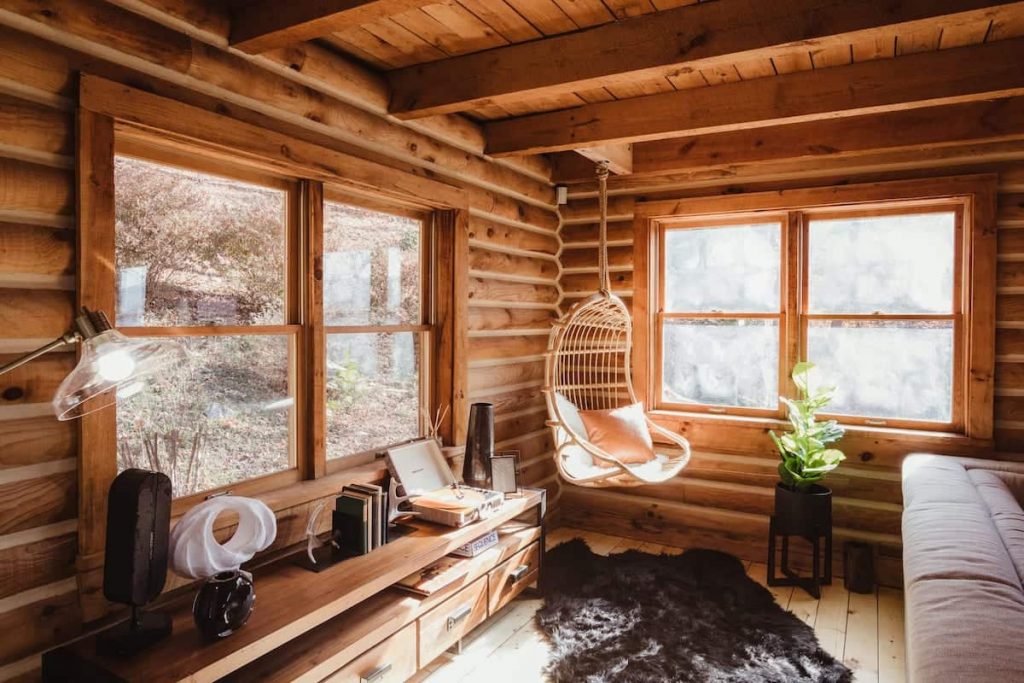 Photo credit: Airbnb
Black Mountain, North Carolina
This gorgeous cabin nestled in the Black Mountains holds the perfect balance between rustic and trendy, with views to die for. While the exterior is sturdy and traditional, the interior is sleek and modern, with a glass sunroom, hot tub, and rec room (with pool table). Though it may seem like a secluded oasis, it's just a short 10 to 15-minute drive from the bars and restaurants of Asheville.
Contemporary Mountain View Home
Candler, North Carolina
Wind down in complete comfort in this sleek, modern rental. With an open, contemporary design and fully equipped kitchen plus amenities, this retreat will have you feeling completely at home. But don't let the coziness fool you – the floor-to-ceiling windows provide jaw-dropping mountain views that you won't find anywhere else. It's located in the Pisgah National Forests, so you only have to walk outside to escape into the natural serenity of the area.
Storybook A-Frame Cabin in the Woods
Boone, North Carolina
This gorgeous A-frame cabin looks like something out of a fairytale. With rustic features including an iron fireplace, handmade furniture, and a private balcony overlooking the woods, you couldn't ask for a more charming location to unwind and take a step back from your busy life. Snuggle by the fireplace with loved ones, or enjoy a cup of cocoa while listening to the babbling brook that flows just beside the property.
Minimalist Asheville Bungalow with Views
Photo credit: Airbnb
Asheville, North Carolina
This striking Airbnb is such an architectural wonder that it was even named the 'Most Beautiful Airbnb in North Carolina' by Architectural Digest, and has been mentioned in Conde Nast and TimeOut. With so many accolades and so much attention, you can be sure you'll get a first-class experience while staying here. Stunning views and avant-garde, minimalist design make this a must-rent property. Just take a look for yourself!
Luxury Glamping Dome
Hendersonville, North Carolina
Experience one of the newest trends in upscale camping, in this luxury glamping dome! If you're looking for a truly unique place to stay, this is one of the best AirBnB's in North Carolina. And you'll be relieved to know that it's fully equipped with indoor plumbing, air-conditioning, and wi-fi, along with a private hot tub. Further down from the dome you'll find a peaceful pond setting and your own camping area.
Treehouses of Serenity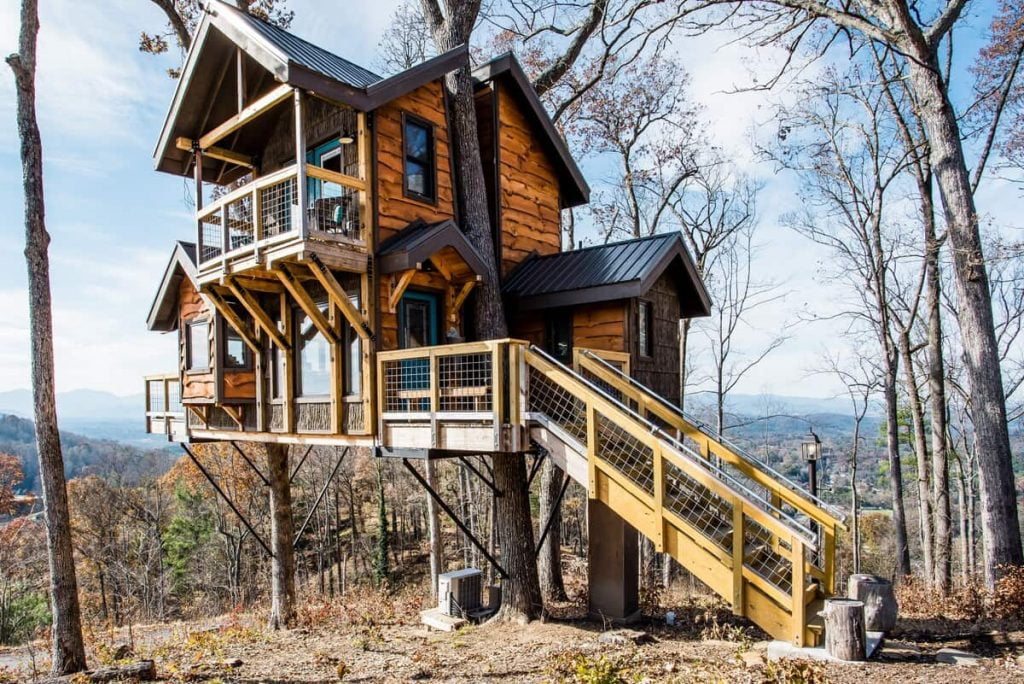 Asheville, North Carolina
The Sanctuary treehouse is a fantastically cozy retreat well-suited to a couple or individual looking for a quiet place to get away from it all. With its eye-catching exterior and mellow indoor color scheme, a stay here will quickly put you at ease after a long work week. Spend the day enjoying the bracing mountain air and inspiring views, before cuddling up in front of the fireplace when night falls.
Asheville's luxury treehouse
Asheville, North Carolina
Come play out your childhood fantasies in this king-sized luxury treehouse! Minutes from the Blue Ridge Parkway and perched in the forests of the Blue Ridge Mountains, this rental is a fantastic getaway for creative types who want to take a break from bustling city life. The building even incorporates many aspects of the landscape around it, so you can truly feel at one with nature.