North Carolina is a state well-known for its stunning landscapes and charming cities. The Tar Heel state boasts 14 National Parks within its borders. To the west is a hikers paradise, with fantastic routes in the Blue Ridge mountains.
Cities such as Charlotte, Asheville, and Raleigh offer attractions such as art galleries, museums, and national sports teams. To help you choose the perfect place to stay, we've scoured the state to find the 15 best Vrbo North Carolina vacation rentals.
All listings featured in this article are carefully selected by our editors. We may earn a commission when you buy something through our links at no cost to you.
Best Vrbo North Carolina Vacation Rentals at a Glance
You might also be interested in our roundup of the Coolest Vrbo Nashville Vacation Rentals.
Vrbo North Carolina Vacation Rentals – Best Of
Best for Groups: 4290 Elevation Luxury Custom-built Home
Sapphire, North Carolina
Perched on a slope overlooking the Panthertown Valley, this stunning resort home boasts some of the best views of any North Carolina Vrbo. A unique covered decking area provides plenty of seating and a gorgeous stone fireplace. Underneath, a second deck is home to your own luxurious hot tub. You and up to 12 guests can also enjoy the nearby amenities at the Sapphire Valley Resort.
Best Views: The Flying Eagle
Banner Elk, North Carolina
With space for 12 and outstanding vistas of the Elk River Valley, this property is easily one of the best Vrbo North Carolina rentals. The main room features beautiful hardwood floors and comfy chairs – the perfect place to drink in the views. Downstairs you'll find a games room with a pool table, while the expansive outdoor balcony boasts a sumptuous hot tub.
Most Romantic: New Asheville Cozy Cabin
Asheville, North Carolina
Surrounded by incredible hiking trails and towering trees, this cabin on the outskirts of Asheville is perfect for an adventurous couple or family. The property sits next to a gorgeous little creek, which you can enjoy from the patio. Sit around the fire pit or relax in the sumptuous hot tub and soak up the atmosphere. Inside, rustic furnishings and a retro log burner create a cozy retreat.
Best Oceanfront Vrbo: Incredible Oceanfront Sunrises and Sunsets
Avon, North Carolina
Tucked away on the coast of North Carolina's Outer Banks is this fantastic four-bedroom oceanfront home. Each of the four floors boasts its own decking area, with the ocean just a few yards away from your backdoor. Inside, comfy furnishings and rustic wooden details sum up the charming character of this property. You'll also be close to local amenities such as watersports hire.
Best Vrbo Piedmont North Carolina
Old Church in the Heart of Pinehurst Village
Old Town Pinehurst, Pinehurst, North Carolina
The central town of Pinehurst is home to this incredible converted church that dates back to 1919. Bask in the glorious central hall, with high beams and stunning hardwood floors. You'll find a pool table and an enormous 120" projector screen within, surrounded by luxurious leather furnishings. The center of this charming village is a short walk away, and the grounds also include a basketball hoop.
Modern Oasis on Lake Norman
Photo credit: Vrbo
Mayhew, North Carolina
Relax on Mooresville's Lake Norman shore with this amazing home. This property is all about enjoying the water, with an outdoor pool, private dock, and a fleet of kayaks and paddleboards. Play host to games night thanks to the ping pong table inside. This lakeside home is close to several local clubs and resorts. Inside, chic modern furnishings continue the tranquil vibes
Sterling on Strawpocket with Optional Boat Rental
Mayhew, North Carolina
One of the most luxurious Vrbos in North Carolina, this waterfront masterpiece sits right on the shore of Lake Norman. Bring your own boat or hire one from a club nearby and moor up at the two-story dock. The modern, open-plan interior creates a relaxing atmosphere and has enough space for 18. This expansive home also offers foosball and pool tables to keep everyone entertained.
Luxurious Urban Farmhouse on Lake Norman
Mayhew, North Carolina
For the ultimate lakeside lifestyle experience, this stunning property takes some beating. Nestled in a tranquil cove on Lake Norman, this farmhouse has a private jetty and several kayaks to help you enjoy the water. The bespoke, rustic interior is perfect for relaxing. Alternatively, you and up to ten guests can soak up the sun on the outdoor deck.
Best Vrbo North Carolina Mountains
Luxury Riverfront Mountain Cabin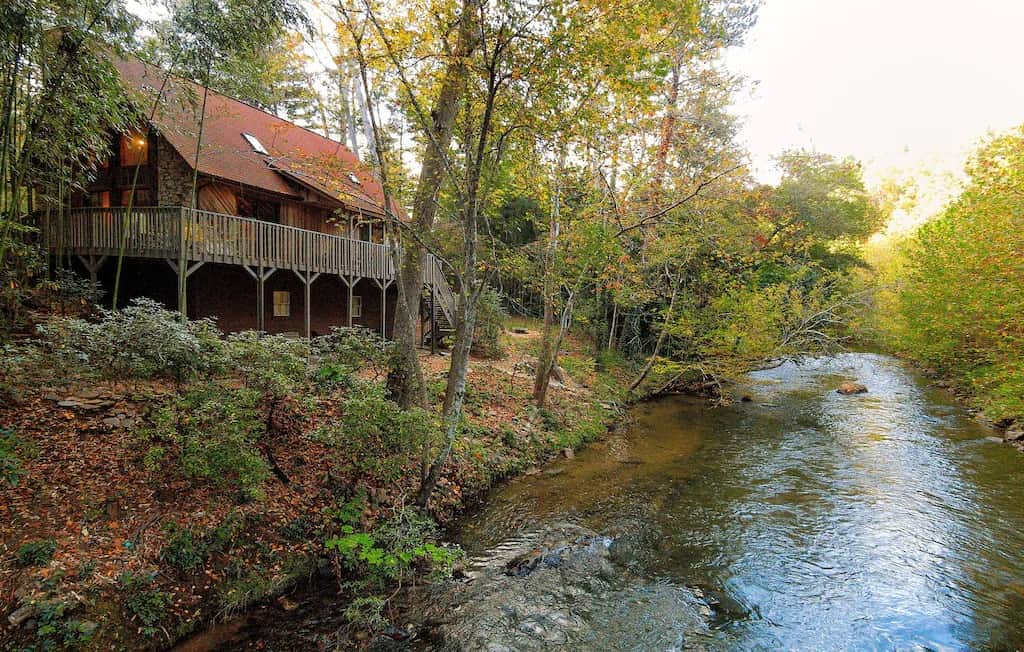 Asheville, North Carolina
Deep in the Appalachians rests this wonderful mountain cabin, just a short drive away from downtown Asheville. You'll be right next to the Swannanoa River and surrounded by a beautiful bamboo forest. Enjoy the views from the wraparound deck or enjoy a game of pool or shuffleboard inside. The property is also surrounded by stunning walking trails – perfect for adventurous couples.
Hidden Cove on the Doorstep of Downtown Asheville
Asheville, North Carolina
This cozy cabin is perfect for a quiet retreat. Surrounded by gently swaying trees, you'll still be just a few minutes drive away from downtown Asheville. The outdoor deck is the perfect place to enjoy the woodland vibes and you'll also have a hot tub and fire pit. Indoors, there's also a ping pong table for a memorable game night.
SilverWolf Lodge on Lake Nantahala
Topton, North Carolina
Known locally as the "Glasshouse", this designer property offers the perfect balance between lakeside living and incredible mountain vistas. The contemporary interior is complemented by beautiful rustic details and leads out onto a stunning covered deck right next to the water. The home also includes a private dock. Even if you don't have a boat, sitting out above the lake is an amazing experience.
Mid-Century Modern Luxury Golf Course Mountain Retreat
Photo credit: Vrbo
Maggie Valley, North Carolina
For golfing aficionados or an active family, this mountain home is a perfect getaway. The property overlooks the Maggie Valley Club & Resort, which offers a golf course and other activities. The outdoor deck offers awe-inspiring mountain vistas and a fire pit. Inside, the bespoke mid-century furnishings and bold colors give the home a retro feel, especially with the old-school arcade machine and jukebox.
Treehouse in the Exclusive Hound Ears Country Club Community
Watauga, North Carolina
For couples looking for a romantic but sophisticated North Carolina retreat, this stylish chalet is perfect. The home is situated within the exclusive Hound Ears Country Club Community, perched on a rocky ledge overlooking the stunning landscape. The cozy interior leads out to a small deck that still manages to provide a luxurious hot tub. You'll also be able to enjoy the attractions and amenities of the nearby club.
Wanderlust Lofts: The Sapphire
Downtown Asheville, Asheville, North Carolina
For anyone dreaming of a wonderful city break, this beautiful loft puts you close to the center of downtown Asheville. The bright, airy interior is packed with comfy chairs and modern styling. Nestled on top of a local coffee shop, this property is one of the best bases for exploring one of North Carolina's most charming cities. Bars, restaurants, galleries, and museums are all within walking distance.
Elegant Cozy Interior & Sunset Views
Highlands, North Carolina
Nestled within the beautiful Highlands area, this gorgeous rustic chic property offers sublime views of the mountains from its decked balcony. There are wood-burning fireplaces inside and out to stave off any winter chill. The property feels like it's out in the wilds, surrounded by trees and wildlife. But it's actually just a short walk away from downtown Highlands and all the local amenities.