There's no place like Nashville. Nicknamed "Music City" for its eclectic and vibrant musical scene, Nashville is one of the most exciting cities in the United States. Being the State capital of Tennessee, Nashville is also close to fantastic natural attractions and views of the mountainous landscape. Whether you're a music aficionado or an avid hiker, you'll find something to love in Nashville.
To help you to get the most from your stay, we've created a list of the 16 best Vrbo Nashville vacation rentals. From contemporary condos, eclectic townhouses, and the former home of two notorious outlaws, Nashville's amazing Vrbos are packed with enough character for a truly memorable getaway.
All listings featured in this article are carefully selected by our editors. We may earn a commission when you buy something through our links at no cost to you.
Best Vrbo Nashville Vacation Rentals at a Glance
Read next: 12 Best Airbnb Tennessee Vacation Rentals (2021)
Vrbo Nashville Vacation Rentals – Best Of
Most Unique: The Library – Music City Downtown Penthouse
Downtown Nashville, Nashville, Tennessee
For Broadway and music aficionados, this amazing downtown penthouse is perhaps the best Vrbo in Nashville. From the dressing room-style mirrors to the huge billiards table, this luxurious property has plenty of eclectic details. You'll be just two blocks away from Nashville's vibrant entertainment scene and even closer to the iconic Printers Alley. With space for 16 guests, this incredible penthouse is perfect for a company retreat or wedding event.
Best for Groups: Heart of Downtown – Producer's Loft
Downtown Nashville, Nashville, Tennessee
Enjoy enthralling city views from this luxurious loft property situated in the heart of downtown Nashville. With close proximity to Nashville's incredible array of entertainment venues and top-notch restaurants, this 19th Century apartment is drenched in stylish decor and contemporary furnishings. Industrial touches like the vents overhead and the bare brick walls give this breathtaking property a real sense of character. There's also an outdoor patio for you to enjoy.
Read next: 12 Coolest Airbnb Nashville Vacation Rentals
Best Value: Adorable East Nashville Townhome
East Nashville, Nashville, Tennessee
Nestled in the eclectic East Nashville area is this fantastic townhouse, just 15 minutes from downtown Nashville and its iconic entertainment venues. Soak up the charming views from the third floor decking area, complete with comfy chairs clustered around a fire pit. The crisp white decor provides a relaxing space and is full of chic rustic furniture and sumptuous leather chairs. This charming home is perfect for a small family.
Best Vrbos in Downtown Nashville
Unique and Private Downtown Loft
Downtown Nashville, Nashville, Tennessee
This trendy downtown condo is one of the best Vrbo Nashville rentals for sports fans, boasting one of the shortest walks to Nissan Stadium. When you're not catching some exciting gridiron action, this property puts you right next to some of Nashville's most iconic venues. The industrial style creates a stylish space, and there's also a billiards table for you and your guests to enjoy.
Penthouse Loft in the Heart of Downtown – Printers Alley Lofts
Downtown Nashville, Nashville, Tennessee
This amazing loft space is close to the famous Printers Alley, keeping Nashville's most iconic attractions within walking distance. The property is spread out over two levels, with an impressive living space featuring plush seating and a pinball machine. Upstairs, the main bedroom offers the perfect space to sink into after a night out on the town. Eclectic industrial details and bare brick walls give this apartment a unique aesthetic.
Deluxe Penthouse Loft
Downtown Nashville, Nashville, Tennessee
Situated right in the heart of downtown Nashville, soak up the spirit of this incredible 19th Century penthouse before heading out to explore the city's famous music venues and world-class eateries. When it's time to relax, this fantastic property provides ample opportunities. The stunning main room houses a full pool table by the window and the whole apartment is kitted out with a mix of contemporary and classical furnishings.
Best Vrbos in East Nashville
Shelton and Urban by AvantStay
Talbot's Corner, Nashville, Tennessee
With space for 20 guests, this dual-unit property is the ideal setting for a company retreat or wedding venue. Located in Talbot's Corner, this short-term rental is close to exhilarating attractions such as Radnor Lake's stunning hiking trails but is still within driving distance of downtown Nashville. Both units are kitted out with comfy and cozy furnishings for a relaxed atmosphere.
A Luxury Retreat in the Middle of the City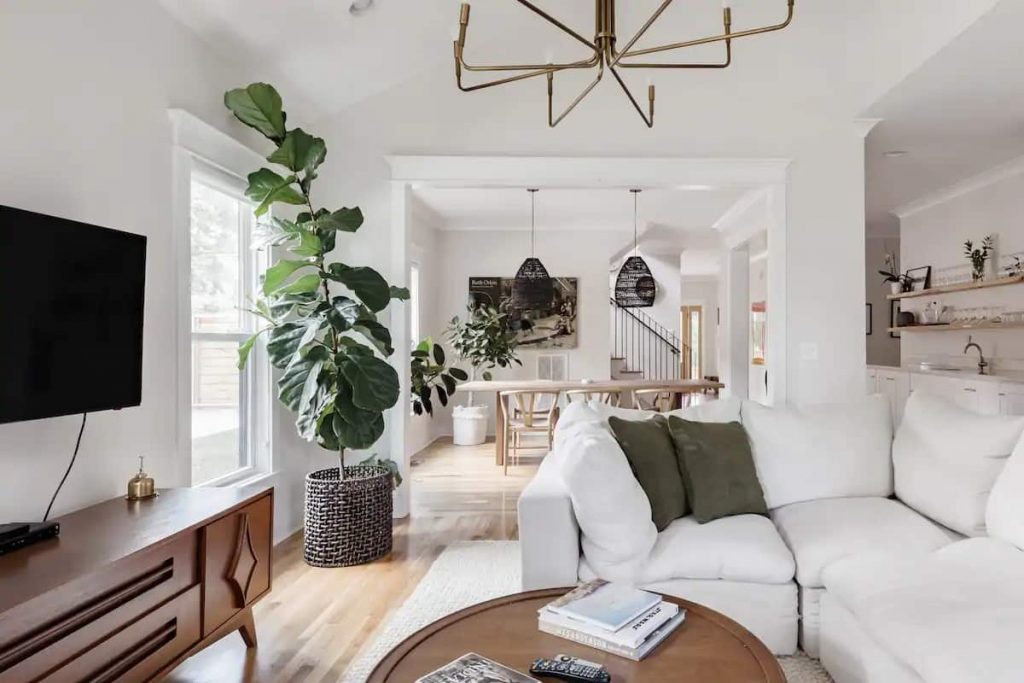 Inglewood, Nashville, Tennessee
Situated in Inglewood in East Nashville, this beautiful home offers the ideal escape from the hustle and bustle of downtown. This 1930's renovated property has space for 10 guests and is drenched in relaxed Scandinavian vibes. Several bedrooms wow you with bold, eclectic styling and plush furnishings, while the beautiful backyard and decking area is the perfect place for the kids to play.
Best Vrbo in Music Row Nashville
Illume – Chic Music City Hideaway
Edgehill, Nashville, Tennessee
Nestled in downtown Nashville is this beautiful condo property. With access to a stunning outdoor pool as part of a shared complex, this home is perfect for a socially adventurous couple. You'll be able to enjoy your own private balcony area complete with an outdoor dining table and seating, all within walking distance of Nashville's world-famous entertainment. Stylish contemporary furnishings fill the interior, while the relaxing bedroom offers great city views.
Best Vrbos in 12 South Nashville
Modern Living in the Heart of 12 South
12 South, Nashville, Tennessee
This modern Nashville Vrbo is located right in the heart of the trendy 12 South neighborhood and is close to Vanderbilt University. You'll be within walking distance of local shops and eateries while still close enough to enjoy the iconic attractions of downtown. Inside, clean and elegant contemporary furnishings create a relaxing space, with captivating artwork on the walls and plenty of character.
Open and Airy Waverly Penthouse
12 South, Nashville, Tennessee
Within the trendy 12 South neighborhood lies this modern, stylish penthouse property. You'll be close to local cafes, spas, and venues whilst also being within walking distance of downtown Nashville. The bright, airy interior is full of trendy contemporary furnishings and is the perfect place to relax. There's also a shared outdoor decking area to add a fun social dimension to your stay.
Best Vrbos in North Nashville
Celebrate House with Bachelor(ette) Rooftop Sky Terrace
Buena Vista, Nashville, Tennessee
Located right next to the characterful Germantown neighborhood and about a mile away from downtown Nashville, this expansive townhouse is a fantastic place to stay. You'll be able to enjoy scintillating views of Nashville's beautiful city skyline from the huge rooftop terrace, complete with BBQ grill, fire pit, and comfortable seating. Inside, you'll find a bright, airy space full of cozy modern furnishings and stylish wooden details.
1850's Luxury and Modern Comfort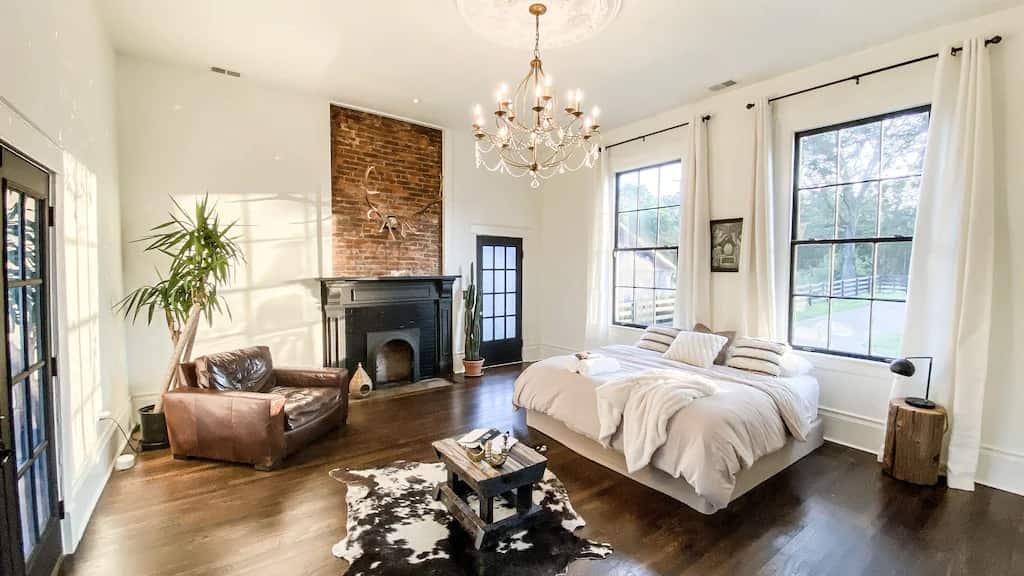 Nashville, Tennessee
For those desiring a quieter stay out of town, this expansive property is the ideal choice. This 1850's home was once the preserve of notorious outlaws Frank and Jesse James. Now, it's a luxurious farmhouse complete with a stunning saltwater pool in the private backyard. This secluded home is still just a few minutes drive from downtown Nashville, with an opulent interior full of eclectic details and sumptuous furnishings.
Best Vrbo West Nashville
The 1865 Hip & Historic Home with Pool Patio
Photo credit: Vrbo
West Nashville, Nashville, Tennessee
For any couples aiming to have a fantastic Nashville getaway, this incredible condo is the ideal choice. You'll have access to a beautiful patio pool to chase away the Tennessee heat while also being close to some of Nashville's best and brightest attractions. Packed with industrial details and trendy modern furnishings, this property oozes character and style. There's also an observation deck above for perfect views of the city skyline.