Traverse City is one of Michigan's largest urban areas, yet is also one of the best places to go to enjoy the great outdoors. The city crouches on the shores of Grand Traverse Bay, which feeds into the mighty Lake Michigan itself.
There are tons of great outdoor activities on offer in and around Traverse City. You can enjoy kayaking, swimming, cycling, and hiking throughout the region. But whatever you're planning to enjoy, you'll need somewhere to stay.
In this article, we've put together some of our favorite rentals in the region. From industrial condos to lakeside A-frame cabins, there's a rental to suit every taste. Here are the 14 best Vrbo Traverse City vacation rentals.
All listings featured in this article are carefully selected by our editors. We may earn a commission when you buy something through our links at no cost to you.
Best Vrbo Traverse City Vacation Rentals at a Glance
Check out our roundup of the best Vrbos in Michigan.
Vrbo Traverse City Vacation Rentals – Best Of
Best Cabin: West Bay Modern Cabiny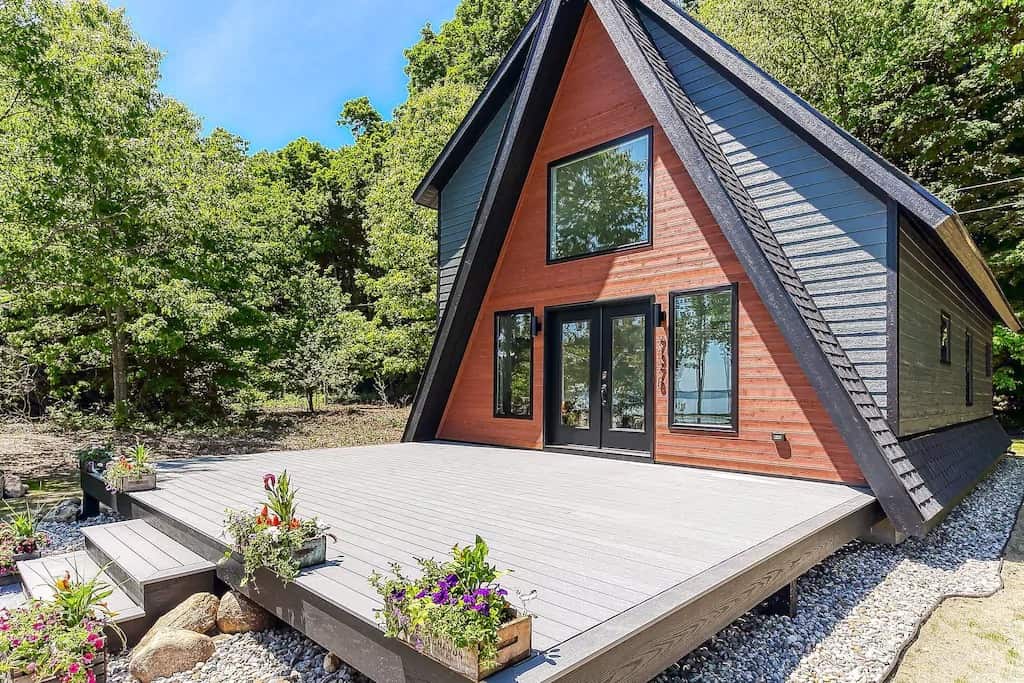 Traverse City, Michigan
This contemporary A-frame cabin is situated right at the edge of West Harbor Bay and includes private access to the stunning shore. Inside you'll find clean, minimalist decor and airy open living space. The outdoor decking area provides comfortable seating, and the home offers spectacular views of the lake whichever room you're in. Of all the Vrbo Traverse City rentals, this is the most tranquil and secluded.
Best Lakefront: Newly Built Luxury Lakefront Lodge
Traverse City, Michigan
Twenty minutes drive from Traverse City will bring you to this stunning lodge at Lakemore Retreat, overlooking Arbutus Lake. You'll be able to enjoy swimming, kayaking, and other water-sports on your doorstep, or simply relax on the private wharf that reaches out onto the lake. The lodge interior combines modern industrial furnishings with rustic features, creating a stunning space. Enjoy the sunset on the outdoor seating around the fire pit.
Best Value: 2 Bedroom Lake View Condo
Traverse City, Michigan
Hidden among the pines on the sandy shores of East Grand Traverse Bay is this modern condo. Out here near Williamsburg, you'll be able to enjoy the stunning lake sunsets from the warm comfort of the outdoor hot tub or the pool, or even the lake itself. The airy interior has space for seven, but would also be an ideal retreat for an active couple.
Best Vrbos in Traverse City Kids Creek
Urban Loft in Beautifully Remodeled Historical Building
Traverse City, Michigan
This spacious fourth-floor condo on the outskirts of Traverse City has access to almost 500 acres of hiking and walking trails. Bare brick walls and industrial features bring a modern look to this 19th Century building, and the airy interior has room to sleep eight. The apartment is only five minutes drive to the beach and is also close to the fantastic restaurants and shops of downtown Traverse City.
Best Vrbos Traverse City Downtown
Traverse City Luxury Home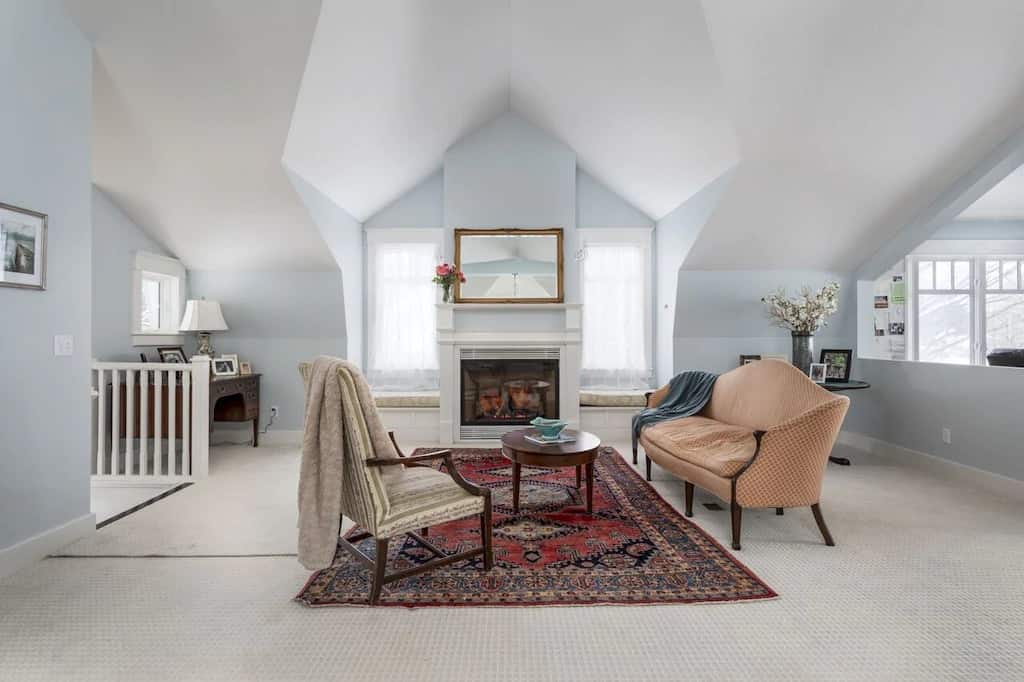 Traverse City, Michigan
Situated a mere 15-minute walk from some of the best Michigan beaches, this huge property is a standout among Vrbo Traverse City rentals. Filled with premium furnishings, this home oozes grandeur and even features a pool table and other games in the basement. After a fulfilling day soaking up the sun on the nearby beach, you can relax in the home's hot tub, or if you're still bursting with energy, head down to the indoor gym.
One of a Kind Downtown Luxury Traverse City Loft
Traverse City, Michigan
Perched above Union Street in the center of Traverse City, this stunning condo is a truly amazing space. Hand-made, locally crafted industrial furnishings complement rustic materials and hardwood features sourced locally. A vast window looks out over Union Street itself, and the loft is a few minutes walk from the beach and eclectic local restaurants. This beautiful space is perfect for larger groups, with room for 11 guests.
Urban Stay By the Way
Traverse City, Michigan
Just ten minutes walk away from the beach, this wonderful home sits in a peaceful area close to the shoreline of Lake Michigan. Cozy couches and armchairs provide the perfect place to stretch out, surrounded by a blend of rustic and contemporary features. There's plenty of room for a family group of 12, and you'll also have a private patio area for outdoor dining thanks to the BBQ grill.
Best Vrbos Traverse City Slabtown
Sleepy Country Road Minutes from Traverse City
Photo credit: Vrbo
Traverse City, Michigan
If you'd prefer a rural retreat, this characterful property is just right. Nestled within beautiful farmland only ten minutes drive from the beach, this home provides plenty of access to nature. You can even forage for wild fruits on the woodland walks around the property. The farmhouse also sits close to a cycling trail that will take you straight into Traverse City, ideal for an adventurous couple or family.
The Blue House on Front
Traverse City, Michigan
Situated in one of Traverse City's historic neighborhoods, this charming home is surrounded by quiet walks whilst also being close to the city center. The beach is also a few minutes drive away. This dog-friendly property is ideal for a small family and their furry friends. This Traverse City Vrbo boasts sophisticated decor, with cozy leather armchairs and luxurious Victorian features.
Best Vrbo Traverse City (Surrounds)
Modern Farmhouse New Construction
Traverse City, Michigan
Featuring private access to the stunning Leelanau Trail, this early 20th Century farmhouse is fantastic for those with an active outdoor lifestyle. Surrounded by woodlands, this chic home is full of rustic furnishings, with a charming covered porch featuring a swing chair. Avid cyclists will enjoy access to U.S. Bicycle Route 35, and the property is also just ten minutes drive from downtown Traverse City as well as the beach.
Spacious Two Bedroom Condo at the Commons
Photo credit: Vrbo
Traverse City, Michigan
This hidden gem sits within the Grand Traverse Commons and is well-placed for access to beautiful natural attractions such as Sleeping Bear Dunes or Leelanau. You'll also have your own private terrace with outdoor seating and views from the main bedroom. Inside the condo features stylish modern furnishings along with a stunning breakfast bar overlooking the terrace. The property is just five minutes drive from the beach.
The Oasis on Parsons
Photo credit: Vrbo
Traverse City, Michigan
This charming home is nestled in a quiet neighborhood but is still close to the beach as well as the city center. Around the property are several peaceful dog-friendly walking routes. After an active day on the surrounding TART trails or at the beach, sink into the luxurious six-person hot tub in your private backyard. The open-plan interior is spacious, airy, and filled with comfortable contemporary furnishings.
Renovated Historical Cigar Box Factory
Photo credit: Vrbo
Traverse City, Michigan
This stunning modern industrial apartment is one of the most impressive Vrbos in Traverse City downtown. The loft overlooks Boardman River and is close to walking trails and water-sports activities. You'll also enjoy your very own private courtyard, complete with a stunning water fountain. There's even a private gym on-site. Lavish marble surfaces dominate the large galley-style kitchen, while an open-plan design gives this incredible apartment a sense of space.
Five Star Victorian on Seventh
Photo credit: Vrbo
Traverse City, Michigan
This imposing classic Victorian mansion is a dream Vrbo in Traverse City for history buffs who truly want to feel like they're back in the 1800s. It's a stone's throw from Clinch Park Beach, just ten minutes walk away. The grand wooden staircase and sumptuous furnishings lend this home a luxurious feel. You'll also have the big backyard to yourself, complete with a fire pit, seating area, and outdoor grill. Close to downtown Traverse City, this stunning property has room for 12 and is ideal for large family groups.