Michigan is aptly named after the Ojibwe word, mishigami which means "large lake" or "large water". Michigan is famous for being home to three of the five Great Lakes of the United States! As such, it's also referred to simply as "the Lake State."
So it's no surprise that Michigan has become one of the most popular destinations in the US. Gorgeous all times of the year, Michigan is home to jaw-dropping scenery and exciting outdoor activities. But finding the perfect place to enjoy the view isn't always easy. So we've compiled a list of the best Vrbo Michigan vacation rentals, so you can snag the best lakeside spot.
All listings featured in this article are carefully selected by our editors. We may earn a commission when you buy something through our links at no cost to you.
Best Vrbo Michigan Vacation Rentals at a Glance
Looking for other rentals in Michigan? Check out our roundup of the best vacation rentals in Traverse City, MI.
Vrbo Michigan Vacation Rentals – Best Of
Best Cabin: Beautiful Home On Boyne Mountain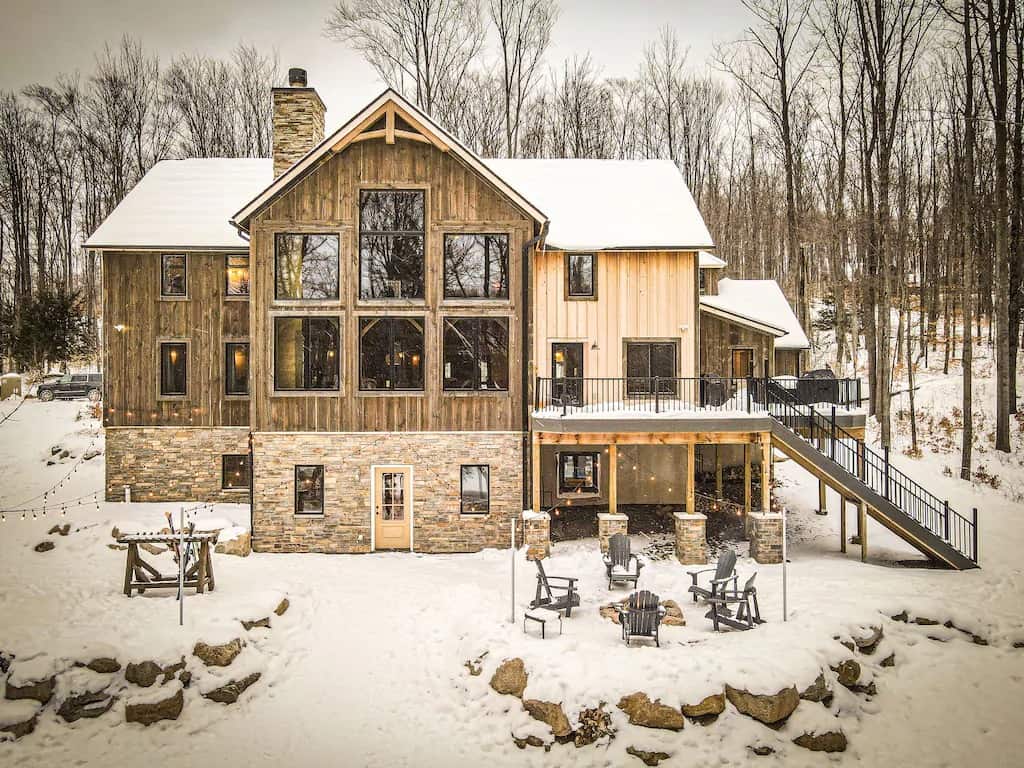 Boyne Falls, Michigan
This incredible timber-framed home with its enormous ceilings and carefully chosen decor is an absolute dream for a ski vacation. The building is located in the only gated community on Boyne Mountain, a popular ski resort in Northern Michigan. Aside from the beauty of this home the most enticing feature of this rental is that you can ski in and out of the residence, meaning you don't have to transport your luggage to and from the ski lodges.
Read next: 14 Gorgeous Luxury Cabins in Michigan
Best for Groups: Private Modern Country Home
Oronoko Charter Township, Michigan
This expansive resort-style Michigan vacation rental is best suited for very large gatherings, as it provides; 11-bedrooms, a games room, theatre room, outdoor dining area, basketball and bocce court, outdoor pool, and not one, but two hot tubs! Placed in a secluded 10-acres of woodland, this extensive rental is located near fantastic wineries and just 20 minutes away from the best lake Michigan beaches in the area.
Best Lake House: Michigan Lake House Beachfront Home
Stevensville, Michigan
On the edge of the Grand Mere State Park, this picturesque beach home overlooking Lake Michigan is the ideal Michigan Vrbo to rent out when you want to escape your busy everyday life. With an enormous and luxuriant living area as well as a fully-equipped kitchen, you'll have everything you need to enjoy your beach getaway with friends and family.
Read next: 11 Best All-Inclusive Resorts in Michigan
Best Value: West Bay Modern Cabin
Traverse City, Michigan
This stylish cabin on Lake Michigan has a striking A-frame exterior that makes you feel like you're "camping" in style. But it hides a clean, modern interior with sleek furnishings and a minimalist color scheme. And what makes this rental truly special is the beach access right on the doorstep of the property! It's a fantastic getaway for a family or group of friends.
Best Vrbo Kalamazoo Region Michigan
Sophisticated, Modern and Cozy Suburban Home
Union Pier, Michigan
It's easy to escape the chaos of city life when you're nestled in the quiet and wooded neighborhood of Stones Throw. This vacation rental is a comfortable 3 bedroom house with modern fittings and a fully equipped kitchen. Staying here also gives you weekday access to a pool and clubhouse, and the Union Pier beach is just a few blocks away.
Spacious Lodge Steps from Lake Michigan
Fennville, Michigan
This brand-spanking-new lakeside lodge was only recently completed in 2020, so you know that everything will be in perfect condition for your arrival. This Vrbo Lake Michigan winter lodge is an incredible mix of rustic and sophisticated, with its muted tones, complicated timberwork, and dozens of full-length windows that give it a bright, open, and spacious feeling.
Read next: 14 Uber-Luxurious Mansions in Michigan for Rent
Rebel Farm – A Farm To Table Getaway
Fennville, Michigan
This vacation home is more like a resort than a traditional farm stay. It's fully equipped for a group getaway with friends, with 7 bedrooms, 7 bathrooms, and a sprawling living area and kitchen. There is also a full bar, outdoor pool, and firepit for both daytime and nighttime events. It's the perfect escape into the countryside.
Extraordinary Lakefront Home
Union Pier, Michigan
This glamorous resort-style property is truly a one-of-a-kind in Harbor County, Michigan. Not only does it have access to one of the best private beaches in the area, but it also has its own outdoor pool and hot overlooking the stunning scenery. If that wasn't enough, after a long day in the water you can truly unwind inside the property's own private sauna.
Best Vrbo Traverse City Region Michigan
Modern Michigan Lake House Rental
Photo credit: Vrbo
Northport, Michigan
This gorgeous and earthy rental was built with the Scandinavian concept of Hygge in mind – a feeling of comfort, contentment, and wellness. And it delivers! You won't want to leave this beautiful vacation home unless you're leaving to light the fire pit on the property's lakeside patio or to stroll through the native woods and lakefront nearby. It was even featured in the NY Times as one of the Best Vrbo Michigan rentals.
The Birchview Beach House
Williamsburg, Michigan
The Birchview beach house has a youthful and vivacious air to it, with its icy blue, white and grey color scheme and stylish furnishings. This property is located directly on the beachfront with sand outside the doorstep and the water just a few strides away. Most of the 5-bedroom houses were built to be lake-facing, so you can enjoy the views at virtually any time of day.
Best Vrbo Detroit Region
New Modern Island Home with a Waterfront
Grosse Ile, Michigan
Grosse Ile is a unique little island in Lake Michigan, between Detroit and Toronto. And this home is ideal for enjoying the island, with direct access to a canal through the backyard area. The home is stylish and modern, decorated with gorgeous artwork and furniture. It also has a hot tub, full bar, and theatre room. Many island activities are within walking distance, including boat and helicopter tours, walking tracks, and even an alpaca farm!