A topographically diverse state, Michigan boasts stunning escapes, mostly near and around its lakes, and picturesque wilderness. A popular holiday destination among families, its shoreline attracts both local and international visitors looking to step away from hectic city life and indulge in the spoils of nature. Catering mainly to large groups that visit for extended stays are mansions in Michigan for rent.
These larger-than-life properties are private escapes that promise an intimate vacation packed with modern-day conveniences. The highlight of these rentals is their multi-generational versatility. No matter their age, all guests staying at these grand residences with panoramic views enjoy a spectacular, activity-filled vacation to remember for a lifetime.
All listings featured in this article are carefully selected by our editors. We may earn a commission when you buy something through our links at no cost to you.
Macatawa Mid-Century Beach Home
Macatawa, Michigan
Surrounded by nature, this Macatawa mid-century dwelling is among the best mansions for rent in Michigan, perfectly situated for easy access to some of the most stunning Michigan beaches. A short distance from the lakeside beaches, the multi-level home with a fair number of stairs promises you total privacy without stepping too far from city activity.
The home's main features are its wrap-around deck, spacious living areas, and a well-stocked island kitchen. You'll especially love the domed skylight in the living room that gives the space an open feel while letting in warm sun rays during the day. The interiors, while pleasing, have an edge that comes through with the use of natural elements and contrasting light and dark color schemes. We particularly love the small touches, like the availability of beach towels, toys, and chairs, that make the stay feel personal and friendly.
Read next: 14 Gorgeous Luxury Cabins in Michigan
Luxurious Six Bedroom Estate
Allegan County, Michigan
A private sanctuary with six bedrooms, the house covers an area of 5457 sq ft, creating a deluxe space to enjoy a laidback vacation. Boasting a traditional beige-colored exterior with a circular driveway, its location near Douglas and Saugatuck further makes it a convenient place to dwell.
One of the key highlights of the mansion is its open-plan living featuring the kitchen, dining room, and lounge. The kitchen, in particular, with its circular chandeliers, island with sink and seating, and appliances, is spectacular, straight out of a design magazine.
The décor stays sophisticated throughout, with mid-century furnishings that flaunt classic European design ethos. While the primary bedroom's en-suite has a standalone tub, the house also has a separate room for kids with bunk beds and a bath. Outside, you can spend the evening sitting around the fireplace while cooking a barbeque as you witness the sun disappear into the horizon.
Lakeside Estate with Indoor Swimming Pool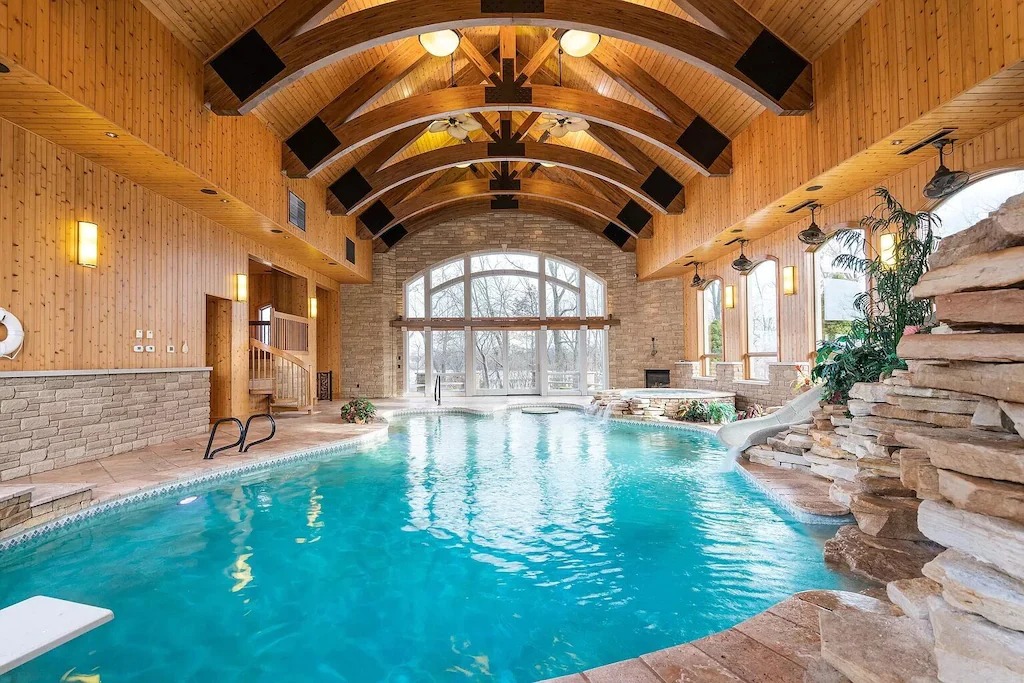 Branch County, Michigan
One of the best mansions in Michigan for rent, this waterside retreat comes with all the luxuries one needs for an eventful holiday with the family. The eight-bedroom, 9500 sq ft property's main characteristic is its heated indoor all-season swimming pool. The pool, with an arched chalet-like wooden ceiling, comes with a slide, swim-up bar, waterfall, and hot tub. It takes a lot of willpower to step away from all the fun one has around here and go out to explore the rest of the house or the surrounding areas.
Granting access to Union Lake via stairs, the mansion sits on a 25-acre gated property. Inside, you can spend the day shifting between the living room, the library, and cozy nooks, several of which offer fantastic lake views. When it's time to play, enjoy the openness of the yard, walk the 0.8-mile trail around the house, or head to the basement for darts and air hockey. Tired and ready to sleep? Take a well-deserved bath in the primary room's jacuzzi tub before allowing the comfort of the bed to guide you into the land of dreams.
Read next: 11 Gorgeous Vrbo Michigan Vacation Rentals
White Pearl Waterfront Mansion
Union Pier, Michigan
Affluence is the name of the game at White Pearl, a waterfront mansion and guesthouse that you can rent for up to 18 guests. The amenity-filled estate hides within its curvaceous exteriors an expansive dwelling featuring an all-white kitchen, floor-to-ceiling windows, and living rooms with Italian furnishings, a fireplace, and in-vogue furniture pieces.
White Pearl's primary bedroom is one of our all-time favorites. Located on the second floor, it comprises a grand space with an outdoor porch, double sauna, jacuzzi, skylight, private office, and indoor balcony. The mansion's outdoor area is equally dreamy, consisting of a tennis court, seasonal swimming pool, and hot tub. Furthermore, the house's lakeside location includes access to a private sandy beach, a great spot for quiet introspection or to have fun in the water with friends.
Contemporary Luxury Beach Home
Photo credit: Vrbo
Lakeside, Michigan
Contemporary at first look but pastoral on the inside, this beach bungalow is among the top mansion in Michigan for rent. We are in awe of the home's living room which features floor-to-ceiling windows that let in plentiful light. The well-equipped island kitchen, library, and primary bedroom with a fireplace and jacuzzi prove that much passion and design thought has gone into making it into a welcoming sojourn.
The four-bedroom mansion also comes with a detached guest house. It's very convenient, especially if you have teenagers in the group or a couple who needs privacy. If you do somehow pull yourself away from the genuinely impressive living area, the beach is but a few steps down the road.
Walloon Lake Mansion
Walloon Lake, Michigan
The Walloon Lake mansion is a characteristic log home that amalgamates the essence of the surrounding environment with modern-day conveniences. Accommodating up to 12 guests, the seven bedrooms have individual décor elements ranging from bookshelves and antique leather chairs to a soak-in tub in the primary room. The overall countryside interiors further ooze a rustic charm thanks to exclusive structural components like the exposed stone accent wall above the fireplace in the living room.
However, a holiday by the lake is all about relishing the outdoors. As one of the most scenic mansions for rent in Michigan, you can certainly expect the best outside facilities here. We personally loved the addition of the tennis court. But if you prefer to take it easy, the patio with manicured gardens comes with deck chairs, a giant Connect Four, and truly astounding views of Walloon Lake. And if you like to be close to the water, a walkway from the backyard leads straight to a private wooden pontoon and sandy beach.
Lakefront Estate
Allegan County, Michigan
Perched low on a wooded dune, this gorgeous waterfront abode promises the best of both worlds. From its vantage point, residents are privy to unmatched panoramas of the lake. At the same time, access to the lake requires going down only a few steps. Classic in design with sophisticated interiors, the house's décor is well-thought, combining comfort with a style that shouts cottage-chic.
Covering an area of 8782 sq ft, the eight-bedroom property with a beautiful kitchen is a scenic rental for friends and family to spend time together. The house offers plentiful open spaces, indoors and outdoors. Floor-to-ceiling windows keep the home bright while gifting uninterrupted views of the lake. At the same time, the children's play area with ping pong, a barbeque grill, deck chairs, and an outside shower for sandy feet are additions that help make every stay here extra special.
Bluffside Splendor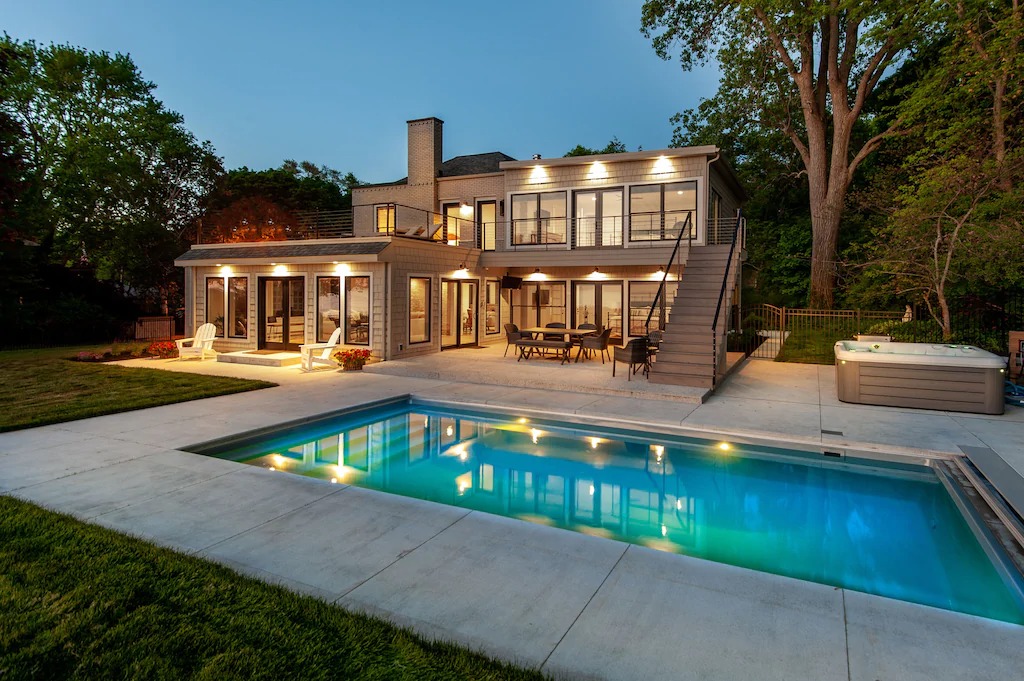 South Haven, Michigan
Bluffside Splendor is a contemporary-styled residence that checks all the must-haves of mansion living. The heart of the rental is the open island kitchen with a striking accent red brick wall behind the hob. Furthermore, there are large rooms and snug little nooks throughout the property where guests can sit and mingle as couples or as a group. The basement is the entertainment hub, where you'll find plush sofas, a TV, as well as ping pong, foosball, and poker tables.
Weather permitting, the mansion's backyard is an exceptional place to spend time from early morning to late at night. The property's pièce de résistance is its heated pool and jacuzzi. In addition, there's an inviting fire pit, outdoor TVs, a garden for kids to run around, and of course, amazing views of the lake.
SaugaBuck House
Allegan County, Michigan
Situated close to downtown Saugatuck, alongside Kalamazoo River, SaugaBuck House is an excellent option if you prefer privacy but also want to stay close to all the action. A dog-friendly mansion rental in Michigan, the residence and its adjoining guesthouse have five eclectic bedrooms and an abundance of facilities. Indoors, you'll come across three kitchens, a hot tub with river views, and high ceilings with skylights.
We found hints of opulence interspersed throughout the property to be pleasant surprises. From the four-pillar bed to the main bath featuring a fireplace and walk-in shower, there's much extravagance to discover. Then there's also the game room with its 85" TV, foosball, shuffleboard, and a pool table.
If you have a penchant for being out in the water, the residence has a boathouse filled with kayaks you can take into the river. Lake Michigan, too, is nearby. Or else, lounge on the wooden deck, breathe in the fresh air, and savor your time away from the hustle of everyday life.
Hillside Retreat in Michigan
Photo credit: Vrbo
Grand Beach, Michigan
The five-bedroom and six-bath Hillside Retreat is a pretty white-colored residence on a large plot with open grounds. Close to the beach, the mansion's passionately done interiors mix cottage-style décor and modern metal design features. The well-appointed bedrooms at Hillside Retreat are perfect for a restful sleep. They also have en-suite facilities like walk-in showers and dual sinks. The lower-level game room, with a TV, ping pong, and foosball, is handy for late-night frolics or when the weather is not too favorable.
The free flow of movement between the outside and inside is something that we particularly find admirable about the mansion. The high-ceiling living room has French doors linking to the patio and a separate conservatory. The backyard is where you'll ultimately spend most of your time. It has an independent kitchen set-up, fireplace, gas grill, a trampoline, and a hot tub.
Sundrop Michigan Country Mansion
Berrien County, Michigan
Nestled in 40 acres of rolling countryside, the eight-bedroom Sundrop estate has a definitive country home look that will warm the cockles of your heart from the start. Being a part of the wine country, it is an excellent stay option for culinary enthusiasts as well as water lovers. The 6000 sq ft residence can accommodate up to 32 individuals and has space for 20 cars!
The open plan layout of the mansion makes the living room with a stone fireplace an excellent place for all group members to mingle. At the same time, the fully-stocked chic-looking kitchen is the source of food and laughter come evening. If you've got kids, the ground-level game room is pretty handy, having a smart TV, pool table, ping pong, and several board games.
The backyard, though, is our favorite. Altogether, the heated swimming pool, sandbox, hot tub, gas grill and smoker, fire pit, koi pond, waterfall, and soccer field entice you to step outside for a bit of play, relaxation, and unlimited merriment.
Modern Scandinavian Home
Union Pier, Michigan
This mansion rental in Michigan has a unique, design-centric personality with Nordic aesthetics. We found the home's bold and alluringly brooding dark exterior to be quite an eccentric touch that makes it stand out amongst others. The seven-bedroom abode houses a maximum of 20 guests with ample space to lounge or wander. The main area drifts seamlessly, extending from the screened porch to the kitchen past the dining and living sections. The bedrooms are cushy, albeit semi-minimalistic in appearance.
Whether to stay active, enjoy healthy competition, or simply build up an appetite, the heated pool with a basketball ring and the adjoining pool house is the center of all activity on the property. The latter has a 65" TV, kitchenette, ping pong table, plush couches, a fire pit, and an outdoor dining table. Lastly, the house is near a grocery store and restaurants. And the beach is only a 10-minute walk away.
Sol Haus
Union Pier, Michigan
A barn-like new construction, Sol House in Gowdy Shores, Union Pier, will particularly appeal to architectural enthusiasts. Although somewhat minimalistic, the five-bedroom abode's luxury features will surely elevate your stay here. The open-floor layout, cathedral ceiling, up-to-date kitchen, dining area, and lounge with a fireplace all have impressive esthetics. Furthermore, the three-season room is a snuggly spot that comes with its own wood-burning fireplace.
The heated outdoor pool is the most appealing aspect of Sol Haus. The residence further entices guests to spend time outside by providing a wooden deck with seating, a hammock, a gas grill, and a fire pit. Sol Haus displays Scandinavian design undertones throughout the property. However, it's most visible in the outdoor shower and the rather cool sauna built inside a freight container
Saugatuck's Crown Jewel – Currently unavailable
Photo credit: Vrbo
Allegan County, Michigan
This sprawling six-bedroom mansion rental in Michigan epitomizes lakeside living. Having a high exposed ceiling and elegant interiors, brought alive by an abundance of light seeping through the windows, the mansion instantly creates a lavish home-away-from-home ambiance. Its private beach access and wrap-around deck make it popular with large groups. Be it morning or night; the outdoor living space allows you to relax, enjoy a drink, and take in spectacular lake and river vistas.
The main level of the two-story house consists of a chef's two-island fully-stocked kitchen as well as a baby grand piano and comfortable seating in the living area. While bedrooms are on both floors, the first has a laidback lounge with a pool table and flat-screen TV. Our favorite, though, is the cozy semi-circular sofa overlooking the lake, an idyllic spot for a sundowner.