Arizona is one of the most picturesque states in the western United States. From art to sports and leisure, to the incredible mountains and canyons, Arizona has plenty to offer. One of the toughest decisions to make when visiting the state is where to stay. To get the most bang for your buck, we suggest staying at an Airbnb. Here are what we consider to be the best Airbnbs in Arizona.
Best Airbnbs in Arizona at a Glance
Read next: 12 Gorgeous Airbnbs In Phoenix Arizona
Beautiful Airbnbs in Arizona – Best Of
Most Romantic Airbnb: Mountain View Tiny House with Sauna
Flagstaff, Arizona
Tiny living at its best, this 1 bedroom studio-style cabin near Flagstaff makes for a fantastic escape. Situated on 1.5 acres on the edge of the Coconino National Forest, this dog-friendly cabin is perfect for getting away from it all. This cabin comes complete with mountain bikes, BBQ grill, exceptional views, and, at the end of a long day you can relax in the four-person, traditional Finnish barrel wet/dry sauna.
Best for Families: Old Town Scottsdale Modern Home
Scottsdale, Arizona
Located within walking distance of Old Town Scottsdale, this Airbnb features mid-century modern decor and all the comforts of home. Whether in town for business or pleasure, you'll enjoy the sprawling backyard, heated pool (complete with a basketball hoop), mini-golf, and so much more. With plenty of room for 6 guests, this spot is a great place filled with fun for the whole family!
Best Luxury Airbnb: Cactus Stone Five-Star Mansion
Scottsdale, Arizona
With accommodations for up to 16 guests, this Airbnb puts the others to shame. 5-star luxury will greet you at every turn and it's centrally located to all that Scottsdale has to offer. In reality, this property is two homes in one. The main house features 4 bedrooms and 4 full bathrooms complimented by a fabulous open floor plan, perfect for entertaining. Doors open to a beautiful 1-acre backyard complete with a heated pool and full beach volleyball court. The guest house consists of 3 bedrooms and 2 full bathrooms and comes completely furnished with all the amenities of a 5-star hotel. There is even a 90s style arcade filled with over 60 machines and even a Foosball table for you to enjoy. With more than 7200 square feet of living space, this is the top Airbnb in Arizona.
Read next: 14 Stunning Vrbo Phoenix Vacation Rentals
Most Unique Airbnb: Frank Lloyd Wright, Norman Lykes House
Phoenix, Arizona
The last home designed by the iconic Frank Lloyd Wright, this Airbnb offers incredible views of Palm Canyon and the city. Grand patios, beautiful entertainment areas, and a unique crescent-shaped pool make staying in this Airbnb an absolute honor.
Other Beautiful Airbnbs in Arizona
The Majestic Mountain Retreat
Prescott, Arizona
Nestled in the mountains near beautiful Prescott, this cozy cabin is one of the top Airbnbs in Arizona. Fully furnished with all the amenities you will need for an amazing stay, this home offers epic views and the perfect place to relax. With great hiking and biking trails close by and plenty of wildlife in the area, there is plenty to explore from this fantastic home base.
The 1975 Luxury Cabin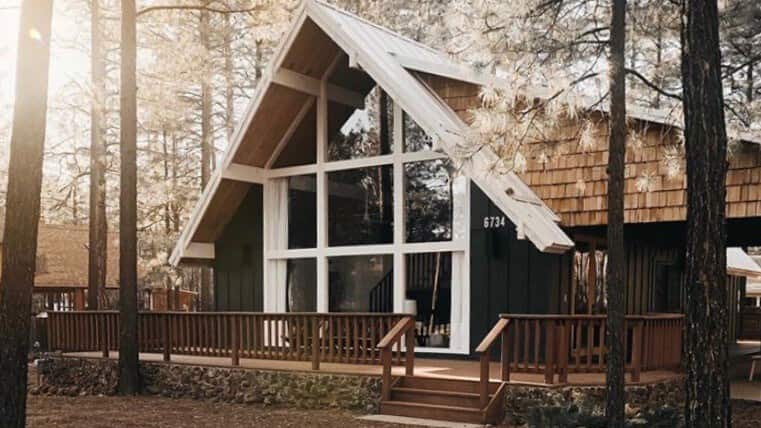 Pinetop, Arizona
With room for up to thirteen guests, the 1975 Luxury cabin is one of the top Airbnbs in the area. With 9 bedrooms and 3 full bathrooms, you will find everything you need to make great memories with family and friends. This cabin has been fully renovated to include brand new appliances, marble details, and an amazing fire pit. The 1975 is located in the heart of the Pinetop Country Club and is easily accessible to plenty of outdoor activities year-round.
Read next: 11 Gorgeous Vrbo Tucson Vacation Rentals (2021)
Sedona Sweet Serenity
Sedona, Arizona
Comfort and elegance define this Airbnb located near Sedona, Arizona. Conveniently located near all the best shopping and activities the area has to offer, this home-away-from-home is fully furnished for a great stay. Offering panoramic views of Sedona's famous Red Rocks, this home includes a deck that is perfect for enjoying the views during the day or stargazing at night. The property also features a hot tub, which is a great way to relax after a long, adventurous day.
Beautiful Sedona Spa Retreat
Sedona, Arizona
Located in beautiful Sedona, Arizona, this one-bedroom, one bathroom apartment is the perfect place to call home when visiting the area. Designed by local architect Bob McIntyre, this well-appointed, modern apartment has everything you need for a great vacation. As if the surrounding 5.3 acres and access to plentiful hiking trails weren't enough, this location also comes equipped with a hot tub, steam room, dry sauna, and an amazing saltwater pool.
Renew Cabin with Private Stargazing Hot Tub and Yoga Deck
Sedona, Arizona
Luxury living on a tiny scale makes this cabin the best choice for a cozy vacation for two. If you are looking for a great place to simply relax and enjoy the view, this cabin has what you need. It comes complete with a fully furnished deck where you can drink in the surrounding beauty. There is even a hot tub for you to enjoy after a long day exploring all Sedona has to offer.
C7K Modern Mountain Luxury
Prescott, Arizona
When looking for the best Airbnbs in Arizona, you have to consider the C7K modern mountain luxury cabin near Prescott, Arizona. With plenty of room for up to 8 guests, this modern home includes a 700 square foot deck which includes an outdoor dining area and a hot tub. There are outdoor activities designed for kids on the property including a swing and a sandbox. Complete with WiFi capabilities, this cabin is a great escape for the whole family.
Old Town Scottsdale Family Vacation Home
Scottsdale, Arizona
Built with a family in mind, this vacation home Airbnb has everything you could need for a great Arizona vacation. With room for up to 8 guests, this home features all stainless steel appliances in the professional kitchen, a large hot tub with six therapy jets, and a fantastic outdoor gas fire pit perfect for enjoying an evening outdoors. Conveniently located near Old Town Scottsdale, this Airbnb is fantastic and not to be missed!
Modern Tropical Oasis
Paradise Valley, Arizona
Paradise Valley is one of the most beautiful places in Arizona and this Airbnb is perfect for families and friends to gather and enjoy all the area has to offer. Newly built with a view of Mummy Mountain, this Airbnb comes complete with a beautiful covered gazebo, outdoor dining, and a heated pool. Our favorite thing about this location is the fully equipped chef's kitchen making this an amazing home base when visiting the area.
The Pool House with Lazy River
Scottsdale, Arizona
There are many luxury Airbnbs in the Scottsdale area but all pale in comparison to this property. The home itself is fully furnished and luxurious. What sets this property apart from all the rest is the pool. This resort-style pool area comes complete with a lazy river creating a one-of-a-kind stay. Seven bedrooms and 5 bathrooms with style and attention to detail that rivals that of the Four Seasons make this unique property a fabulous place to stay when visiting Arizona.