Surrounded by the stunning Sonoran desert and beautiful mountains, Phoenix is a breathtaking city. The capital of Arizona in the South-west, Phoenix boasts attractions like Camelback Mountain, which gives sprawling views of the cityscape, and the Desert Botanical Garden.
But an incredible setting deserves fantastic accommodation. Phoenix has a wealth of unique and characterful Airbnbs, ranging from white-washed desert villas to stylish contemporary guesthouses and converted Airstreams. There's a home to suit every taste and make your stay as perfect as possible. Here are the 12 best Airbnbs in Phoenix.
All listings featured in this article are carefully selected by our editors. We may earn a commission when you buy something through our links at no cost to you.
Best Airbnbs in Phoenix at a Glance
Read next: 15 Amazing Airbnbs In Arizona You Have To See To Believe
Beautiful Airbnbs in Phoenix – Best Of
Most Romantic Airbnb: Roosevelt Row Modern Custom Home
Phoenix, Arizona
This stunning, locally designed contemporary bungalow is a triumph of design. Situated right in the Roosevelt Arts District, this former garage was converted into a beautiful guesthouse. You can enjoy a private backyard with plenty of seating and sliding glass doors to bring the outside in. There is also a small, cozy loft above the kitchenette, with a comfortable bench perfect for reading or listening to music.
Best for Families: Phoenix Bungalow Backyard Retreat
Phoenix, Arizona
This beautiful bungalow boasts a gorgeously landscaped backyard that features both a pool and a fire pit. Situated in Northern Phoenix, the bungalow is kitted out in homely décor and is the perfect retreat for your family, with three eclectic bedrooms. A huge fireplace inside keeps things warm and cozy at night. The yard also comes with a BBQ grill, allowing for some memorable evenings under the Arizona sun.
Best Luxury Airbnb: La Casa Con Vista
Phoenix, Arizona
This sprawling mid-century property nestled amongst the desert hills has space for up to 16 guests, with four bedrooms. Under the watchful eye of nearby Camelback Mountain, this incredible villa includes a pool, sun loungers, and a fire pit in the huge backyard. Inside, the open-plan layout gives you amazing views of the Phoenix skyline, and even features a pool table in the common area.
Read next: 11 Gorgeous Vrbo Tucson Vacation Rentals (2021)
Other Beautiful Airbnbs in Phoenix
Midtown Guest House with Rooftop Deck
Phoenix, Arizona
Tucked away behind the main house, another Airbnb, Midtown Guest House will wow you with its stunning rooftop terrace. There is also a shared patio with the main house, offering plenty of choice for al fresco dining or enjoying your morning coffee. The property features a bright and airy living room and is just a few minutes walk away from popular coffee spot Lux Central.
Dreamy Home with Pool and Rooftop Deck
Phoenix, Arizona
Sheltered just north of Phoenix, this white-washed desert retreat features a huge rooftop terrace with stunning views of both the city and the mountains. Saguaro cactus trees lounge out front, while the vast backyard features a pool, a pair of hammocks, and even an outdoor shower. The clean look continues inside, with a large fireplace, three stylish bedrooms, and an open-plan layout. This is definitely one of the best Airbnbs in Phoenix.
Read next: 14 Stunning Vrbo Phoenix Vacation Rentals
Bohemian Phoenix Bungalow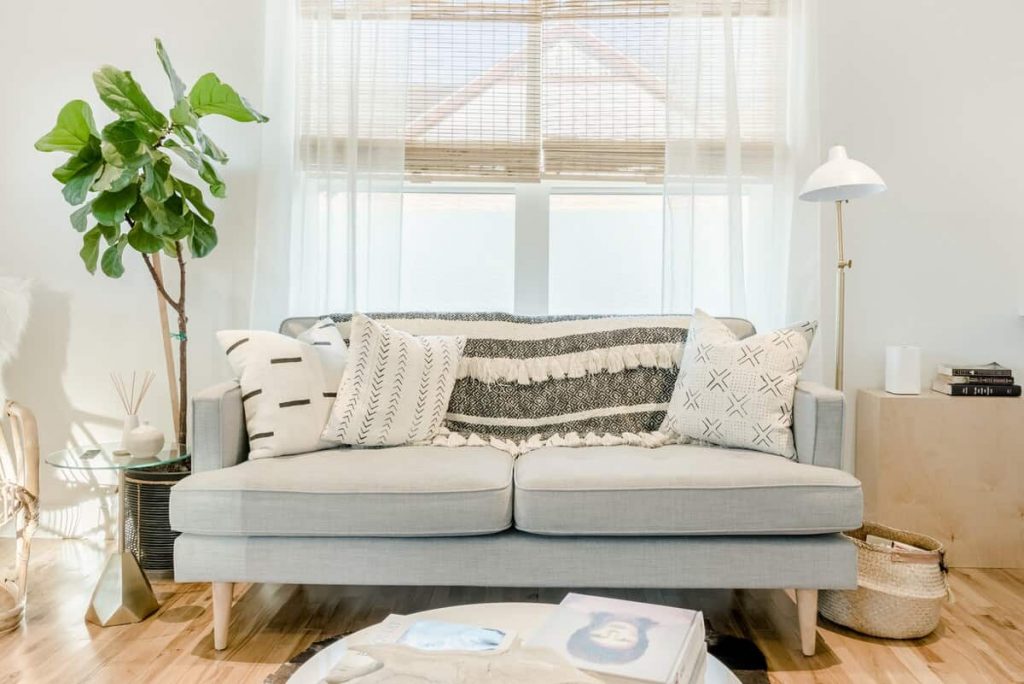 Phoenix, Arizona
A calming, contemporary oasis close to downtown Phoenix, this beautiful bungalow is close to several trendy vegetarian and vegan cafes in the Coronado neighborhood. The light and airy rooms give you a sense of serenity, and there are tables and chairs outside so you can enjoy the fresh air. This lovely home would be great for a couple or a small family.
Stylish Open Plan Home with Private pool
Phoenix, Arizona
This is a large, chic bungalow full of impeccable décor, but the big draw is the gorgeous outdoor heated pool. Surrounded by sun loungers and trees, this is the perfect place to relax in the beautiful Arizona sun. You'll adore the well-equipped outdoor dining area with a table, terrace, and BBQ grill. This house if full of sumptuous, classy details and boasts three large, comfortable bedrooms.
Hamilton House with Private Patio
Phoenix, Arizona
This contemporary, modern guesthouse will leave you in awe of its private outdoor pool. You can then dry off in front of the firepit with a glass of wine. The clean, stylish bedroom also includes a workspace, perfect for anyone on a business trip. The property boasts mountain views and an outdoor dining area. This home is one of the best Airbnbs in Phoenix for couples.
Read next: 11 Gorgeous Vrbo Tucson Vacation Rentals (2021)
Vintage Airstream Near Downtown & Arts District
Phoenix, Arizona
This is one of the more unique Airbnbs in Phoenix, situated downtown and a stone's throw away from the city's famous Arts District. This converted airstream is encompassed by a wonderful deck terrace and wows with its enormous garden and firepit. Inside this sleek trailer is space for two, with several modern appliances and a cozy, luxurious feel.
Historic Downtown Casita with Private Patio
Phoenix, Arizona
This cozy little studio house has a relaxing, natural open layout and a secluded outdoor patio. A few minutes drive away from downtown Phoenix, the property is situated in a charming, historical neighborhood with plenty of cafes nearby. Perfect for a couple or a young family with kids over 12, this calming home is the ideal base for exploring Phoenix.
Luxe Bedroom at Villa Paradiso
Phoenix, Arizona
This gorgeous mid-century B&B gives you a real sense of luxury, with access to a private swimming pool surrounded by verdant greenery. The spacious, airy bedroom has a view right into the garden, and the shared kitchen creates a wonderful environment. The property straddles Phoenix and Scottsdale and is close to the Desert Botanical Garden. The property has both a front and rear garden as well as a fire pit.