As someone who has explored the nooks and crannies of Colorado's small towns, I can tell you firsthand that there's something truly magical about them. From charming historic landmarks to breathtaking natural beauty, these small towns offer a unique escape from the hustle and bustle of city life. Whether you're an outdoor enthusiast or a history buff, a foodie or even seeking a romantic getaway, there's a small town in Colorado that's sure to capture your heart. So let's take a journey through some of the best small towns in Colorado, and discover what makes them so special.
Crested Butte
Crested Butte, a picturesque town nestled in the Rocky Mountains, is a haven for outdoor enthusiasts who love hiking, biking, skiing, and fishing. Surrounded by majestic peaks, lush forests, and crystal-clear rivers, this idyllic location offers a range of activities for everyone. From the famous Mountain Bike Hall of Fame to the breathtaking hiking trails and over 1,500 acres of skiable terrain, Crested Butte is an adventurer's paradise.
The thriving food culture in Crested Butte is not to be missed. With a variety of unique restaurants, you can indulge in farm-to-table meals, craft cocktails, and locally sourced delicacies. Start your day at The Sunflower, savor a funky pizza at Secret Stash, and enjoy a decadent French-inspired dinner at Soupçon. Each dining experience in this charming town is a treat for the taste buds.
Crested Butte's restaurants are also celebrated for their unique ambiance. Discover the authentic Old West feel at the historic Wooden Nickel, adorned with antique guns and Western memorabilia. Cozy up by the fireplace at Brick Oven Pizzeria and Pub while enjoying live music on weekends. Crested Butte is a delightful blend of natural beauty, adventure, and culinary delight that is sure to leave a lasting impression.
Ouray
Ouray, known as the "Switzerland of America," is a quaint town in southwestern Colorado, surrounded by majestic mountains and famous for its natural hot springs. A popular destination for those seeking to escape city life, Ouray offers a range of outdoor activities, breathtaking views, and rejuvenating hot springs experiences. The best time to visit depends on your preferred activities, with summer offering ideal hiking conditions and winter providing a snow-covered wonderland.
Despite its small size, Ouray boasts several hot springs, such as the year-round Ouray Hot Springs Pool, which features multiple pools with varying temperatures. For a more secluded experience, check out the Box Canyon Hot Springs just outside of town, or take an hour's drive to Orvis Hot Springs. These soothing waters are perfect for relaxation after a day of exploration.
Scenic drives and hikes abound in Ouray, such as the Million Dollar Highway, which winds through the San Juan Mountains, offering stunning overlooks. For hiking enthusiasts, the 4.2-mile Perimeter Trail circles the town, providing picturesque views, while the Bear Creek Trail takes you through a beautiful canyon for a moderate hike with spectacular mountain vistas. Ouray is an idyllic retreat that combines natural beauty, adventure, and relaxation.
Related post: 12 Best Ouray Hotels for Your Mountain Getaway
Telluride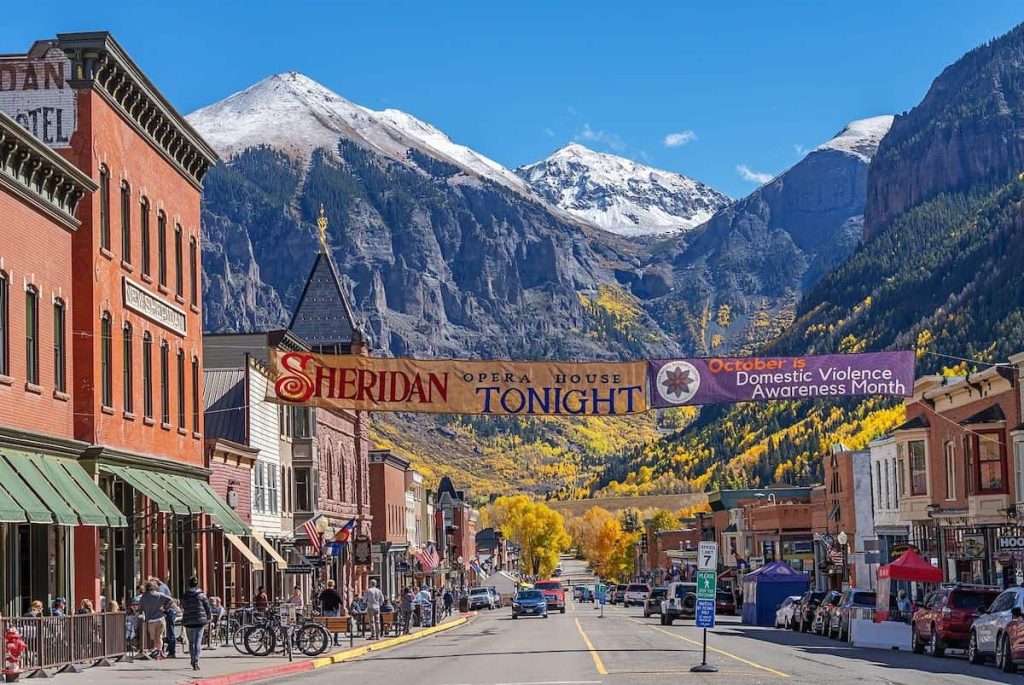 Telluride, steeped in rich history, is home to several historic landmarks, including the Telluride Historical Museum, which highlights the town's mining past and Victorian-style architecture. The town's Wild West connection, with outlaws, lawmen, shootouts, and standoffs, can be explored at the Museum of the Mountain West, just a short drive from town.
With over 2,000 acres of skiable terrain, 148 trails, and an average of 300 inches of snowfall each year, Telluride offers world-class skiing and snowboarding. During summer, the resort transforms into a hub for mountain biking, hiking, and outdoor adventures, catering to all skill levels with its vast network of trails.
After a day of skiing or hiking, unwind in Telluride's charming downtown, which features high-end restaurants, boutique shops, and art galleries in historic buildings. With something for history buffs, outdoor enthusiasts, or those seeking relaxation, Telluride is the perfect destination to experience the magic of a charming mountain town.
Read next: 12 Gorgeous Vrbo Telluride Vacation Rentals
Manitou Springs
Manitou Springs, a charming town at the base of Pikes Peak, is known for its historic landmarks, unique shops, and thriving art scene. Don't miss the annual Emma Crawford Coffin Race, a quirky event honoring a young woman who died of tuberculosis and was buried on Red Mountain, only for her coffin to slide down during a rainstorm.
For outdoor enthusiasts, the Manitou Incline offers a challenging hike with stunning views, while the Pikes Peak Cog Railway provides a leisurely journey to the summit. Manitou Springs also boasts a rich art and culture scene, featuring the Manitou Art Center, Manitou Springs Heritage Center, and the vintage Penny Arcade.
Complete your visit by sampling the healing waters at one of the town's famous mineral springs, located at several public fountains throughout the area. Manitou Springs offers a perfect blend of history, art, and outdoor adventure for a memorable experience.
Salida
Salida, nestled in the heart of the Rocky Mountains along the Arkansas River, is a vibrant town known for its thriving arts and culture scene, as well as its outdoor adventures. Visitors can enjoy breathtaking views of the surrounding peaks and valleys while engaging in a variety of activities, from white water rafting and kayaking to hiking and biking on picturesque trails suitable for all levels.
The town also boasts an array of local breweries and wineries, such as award-winning Amicas Pizza & Microbrewery and Soulcraft Brewing. Sample unique brews or visit Vino Salida Wine Cellars to taste handcrafted wines made from grapes grown in nearby vineyards. When hunger strikes, Salida offers diverse dining options, including casual cafes and upscale restaurants that feature farm-to-table cuisine and locally-sourced ingredients.
Salida is the perfect destination for outdoor enthusiasts, culture buffs, and foodies alike, with something for everyone. Discover the charm of this beautiful Colorado town and create unforgettable memories while exploring its rich landscape and thriving culinary scene.
Estes Park
Estes Park, a charming town at the entrance to Rocky Mountain National Park, is not just a must-visit destination, but also one of the best places to live in Colorado.The park features over 415 square miles of captivating landscapes, from snow-capped peaks to crystal-clear lakes. Visitors can explore the park's numerous hiking trails, catering to all skill levels, or marvel at the breathtaking views from Trail Ridge Road, the highest continuous paved road in the United States.
The town is also an ideal location for wildlife watching and enjoying cabins with private hot tubs, with opportunities to spot elk, moose, and bears in their natural habitat. Guided wildlife tours provide an immersive experience, teaching about the animals' behavior and their role in the ecosystem. Additionally, the Estes Park Wildlife Rehabilitation Center offers insight into the town's conservation efforts and the importance of preserving its wildlife.
A haven for nature lovers and outdoor enthusiasts, Estes Park is a must-visit destination. Experience the serenity of the outdoors, connect with nature, and create unforgettable memories in this picturesque Colorado town.
Pagosa Springs
Pagosa Springs, nestled near the San Juan Mountains, is renowned for its natural hot springs, outdoor activities, and world-class hunting and fishing. The town lies within the San Juan National Forest, allowing visitors to experience the captivating beauty of Colorado's wilderness. The Springs Resort and Spa, with 23 mineral-rich pools of varying temperatures, offers a therapeutic soak. Other hot springs worth exploring include the Overlook Hot Springs Spa and the Healing Waters Resort and Spa.
Winter in Pagosa Springs is transformed into a wonderland, with ski resorts like Wolf Creek Ski Area and snowmobile trails for thrilling exploration. Boasting over 1,600 acres of terrain and 465 inches of annual snowfall, Wolf Creek Ski Area caters to skiers and snowboarders alike. Year-round outdoor adventures include over 50 miles of hiking trails, ranging from leisurely walks to challenging hikes in the San Juan Mountains, as well as world-class hunting and fishing opportunities.
Pagosa Springs is an ideal destination any time of year, offering something for everyone. Whether you're seeking relaxation in hot springs, winter sports excitement, or outdoor exploration, this picturesque town is a perfect getaway.
Silverton
Located high in the San Juan Mountains, Silverton is a historic mining town that transports visitors back in time. Founded in 1874, the town's well-preserved Victorian-era buildings and rich history make it a must-visit destination for history buffs and adventure seekers alike. Silverton is well-known for the Durango & Silverton Narrow Gauge Railroad, a vintage steam-powered train that offers scenic rides between Durango and Silverton, providing breathtaking views of the surrounding mountains and valleys.
What sets Silverton apart is its vibrant arts and culture scene. With a variety of art galleries, museums, and local artisan shops, the town offers a unique blend of history and creativity. Additionally, Silverton's location makes it an ideal base for exploring the nearby backcountry, with ample opportunities for hiking, jeeping, and even heli-skiing in the winter months.
Paonia
Situated on the western slope of the Rocky Mountains, Paonia is a charming agricultural town renowned for its fruitful orchards, wineries, and farm-to-table cuisine. This fertile valley is home to a diverse array of crops, including cherries, peaches, apples, and grapes, earning Paonia the nickname "The Valley of Abundance."
One aspect that makes Paonia unique is its thriving wine industry. With numerous vineyards and wineries in the area, visitors can embark on a delightful wine-tasting journey through the North Fork Valley. The town also hosts the annual Mountain Harvest Festival, a celebration of the region's bountiful harvest, where you can indulge in locally-sourced food, wine, and live music.
Outdoor enthusiasts will also find plenty to do in Paonia. The nearby West Elk Wilderness offers excellent opportunities for hiking, horseback riding, and wildlife watching, while the Paonia River Park provides a peaceful spot for fishing, picnicking, and enjoying the tranquility of nature.
Carbondale
Carbondale, situated in the heart of the Roaring Fork Valley, offers not only outdoor recreation opportunities and a thriving arts community but also a rich historical and cultural experience. The town is a paradise for outdoor enthusiasts with scenic hiking trails, world-class fly fishing in the Roaring Fork River, and various camping options. Carbondale's arts community, centered in the Creative District, features galleries, art centers, festivals, and classes for all skill levels, making art an integral part of the town's culture.
Indulge in Carbondale's amazing food and drink scene, with diverse restaurant options and a thriving craft beer culture. Local wineries offer tastings and vineyard tours, ensuring an enjoyable experience for wine enthusiasts. The town's rich history is visible in its preserved historic buildings from the late 1800s, and the Carbondale Historical Society offers artifacts and exhibits showcasing the town's past.
Immerse yourself in Carbondale's unique cultural experiences, such as the annual Gathering of Nations Powwow, which celebrates the traditions and customs of Native American tribes from across the nation. With its blend of outdoor activities, arts, history, and culture, Carbondale is a charming and engaging destination for all visitors.
Steamboat Springs
Famed for its world-class skiing, Steamboat Springs is a picturesque mountain town that offers year-round recreation and relaxation, including all-inclusive resorts for a stress-free vacation experience. The town's geothermal hot springs, which initially attracted settlers in the late 1800s, continue to draw visitors today with their soothing, therapeutic waters.
What makes Steamboat Springs truly unique is its blend of outdoor adventure and small-town charm. In the winter, visitors can hit the slopes at Steamboat Ski Resort or try their hand at snowshoeing, cross-country skiing, and snowmobiling. The warmer months open up a world of hiking, mountain biking, and fly fishing in the surrounding Yampa Valley.
The town itself boasts an impressive range of art galleries, boutique shops, and gourmet restaurants, ensuring that there's always something to see and do. Don't miss the Steamboat Springs Pro Rodeo Series in the summer or the annual Winter Carnival, a lively celebration of the town's snow sports heritage.
Read next: 10 Stunning Vrbo Steamboat Springs Vacation Rentals
Buena Vista
Nestled at the base of the Collegiate Peaks, Buena Vista is a charming city in Colorado that offers stunning natural beauty and an abundance of outdoor activities. Known for its captivating mountain views and the Arkansas River running through its heart, Buena Vista provides visitors with a unique blend of relaxation and adventure. With a welcoming small-town atmosphere, the city invites you to explore its rich history, picturesque landscapes, and vibrant local community.
Buena Vista is a haven for outdoor enthusiasts, offering various activities throughout the year. The Arkansas River provides excellent opportunities for whitewater rafting, kayaking, and fishing, while the surrounding mountains present a range of hiking, biking, and horseback riding trails that cater to all skill levels. In the winter months, skiing and snowboarding enthusiasts can head to nearby ski resorts, such as Monarch Mountain and Ski Cooper, for a thrilling day on the slopes.
The city's historic downtown area boasts a lively atmosphere, with a variety of local shops, restaurants, and breweries that showcase the region's unique flavors and artisanal craftsmanship. Art lovers can visit galleries displaying works by local artists, while history buffs can explore Buena Vista's past at the Buena Vista Heritage Museum. From its breathtaking natural surroundings to its thriving local culture, Buena Vista, Colorado, is a truly enchanting destination that offers a memorable experience for every visitor.
Conclusion
Whether you're looking for outdoor adventures, history and culture, or unique festivals and events, Colorado's small towns have something for everyone. Visit one of these charming towns on your next trip to Colorado to experience the best of the Rocky Mountains.