Maui is the perfect paradise for your next vacation. This tropical island is the second-largest of the Hawaiian Islands, surrounded by the beautiful blue waters of the Pacific Ocean.
Relax on one of the incredible beaches in Maui or explore some of the best hikes in Maui. If an adrenaline rush is more your speed, Maui is famed for its thrilling watersports including kitesurfing and snorkeling.
Whatever your reason for visiting Maui, we've compiled a list of the 11 best Vrbo Maui vacation rentals to help you choose the perfect place to stay.
All listings featured in this article are carefully selected by our editors. We may earn a commission when you buy something through our links at no cost to you.
Best Vrbo Maui Vacation Rentals at a Glance
Vacationing on other Hawaiian Islands? Check out our roundup of the best Vrbos in Kauai.
Vrbo Maui Vacation Rentals – Best Of
Best Luxury Vrbo: Haiku House Maui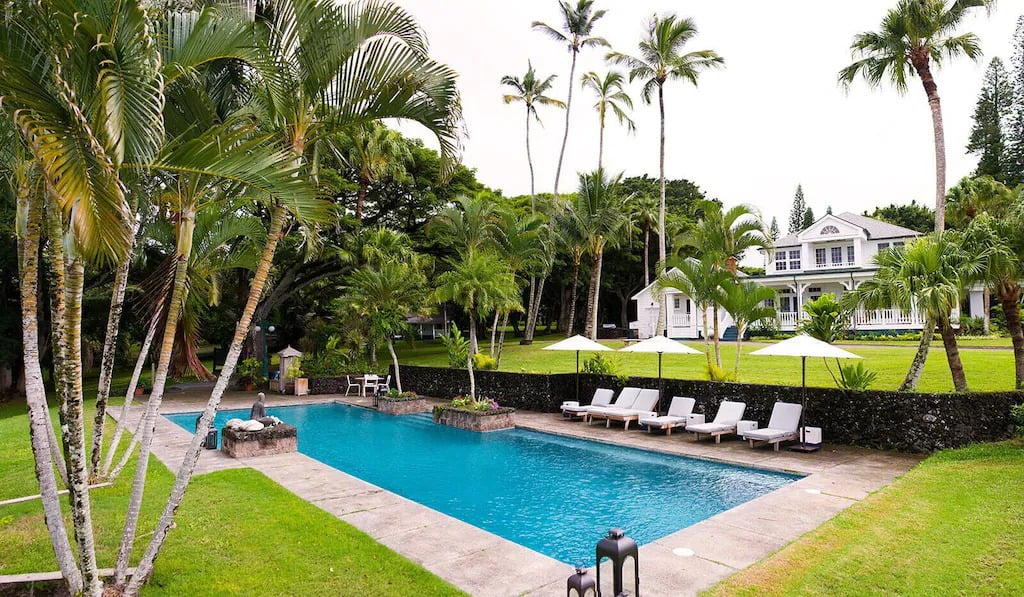 Pauwela, Hawaii
This converted plantation is one of the most luxurious Vrbo's in Maui. The nine-bedroom property is surrounded by 20 acres of lush green grass and palm trees, making it the perfect place for a company retreat or a wedding. The estate even boasts its own arboretum and a beautiful swimming pool. Each bedroom also has its own en-suite, creating a five-star feel for up to 20 guests.
Read more: 12 Best Maui Luxury Rentals
Best for Families: Breathtaking Oceanfront Beach House
Hana, Hawaii
Perched on the island's eastern shore near Hana, this gorgeous property is one of the best Vrbo Maui rentals. You'll be within walking distance of the stunning Hamoa Beach, with ocean views greeting you from the floor-to-ceiling windows in the living room. The home is surrounded by an acre of swaying palm trees, and you can soak up the sea breeze in the hot tub in your private backyard.
Read next: Our Top Picks for Maui Hotels on the Beach
Most Romantic: The Elua Cottage
Photo credit: Vrbo
Hana, Hawaii
This oceanfront cottage property overlooks the stunning surroundings of Hana Bay on Maui's eastern coast. This two-bedroom home is the ideal vacation home for a small family or a couple, sitting within walking distance of Kaihalulu Beach and is also close to Wai'anapanapa State Park. Enjoy the day exploring some of the most amazing hikes in Maui or enjoy spectacular ocean views from the comfort of the living room. Comfy chairs and simple, elegant furniture give this home a truly relaxing vibe.
Best Budget Vrbo: Plantation Style Condo
Photo credit: Vrbo
Kahana (Maui), Hawaii
This pleasant Maui Vrbo is perfect for a couple or a small family. Located on a vacation complex on the island's northeastern shore, you'll have access to the stunning Kahana Reef nearby – perfect for snorkeling. The complex boasts two pools and several sports courts, but you can also relax in your private lanai with its own dining area. Inside, the tropical decor and cozy furnishings create a welcoming atmosphere.
Best Oceanfront Vrbo Maui Vacation Rentals
Sands Of Kahana Penthouse
Kahana (Maui), Hawaii
Drink in the stunning waters of the Pacific from this prominent ninth-floor penthouse. Situated at Kahana Point on Maui's northeastern coast, you can even see sea turtles and whales if you go at the right time of year. Sit out on the balcony and gaze at the ocean or head down to the beach for some swimming and sunbathing. The bright, airy interior is full of contemporary furnishings.
Luxury Oceanfront Rooftop Penthouse
Downtown Lahaina, Lahaina, Hawaii
Drink in stunning Pacific sunsets from the roof of this fifth-floor oceanfront penthouse. The property sits on Maui's western shore, close to Lahaina. The rooftop lounge is the main draw, with plenty of comfortable seating and flanked by beautiful palm trees. Soak up the sun on the loungers or relax inside amid the simple but stylish decor. If you're lucky, you might even spot some passing whales.
New Bright Clean Modern Gem
Downtown Lahaina, Lahaina, Hawaii
This fantastic cottage creates a local community feel even as part of one of Maui's best resort complexes. You'll be able to use features such as swimming pools and sports courts or simply enjoy your beautiful backyard and lanai area. It's the perfect place to enjoy the sun, with plenty of space for the kids to play and a BBQ grill for some memorable meals.
Best Maui Vrbo for Families
Private Two-Bedroom Cottage With Waterfall Pool
Kihei, Hawaii
Situated near the town of Wailea in southern Maui, this picturesque cottage feels like a private tropical resort. You'll have access to a huge pool with its own rocky waterfall. There's even a waterslide to complete the paradise experience. Bask in the poolside sun loungers or relax under the covered pavilion. The property is just a few minutes away from the Keawakapu and Ulua beaches.
Luxurious Two-Bedroom Near Iao Valley
Photo credit: Vrbo
Wailuku, Hawaii
For an active family holiday, this fantastic villa takes some beating. Situated in the town of Wailuku, you'll be close to the Iao Valley region, offering plenty of hiking trails and spectacular mountain views. The bright, stylish interior has space for five guests across two bedrooms. You'll also have your own private covered balcony with comfortable seating. Downtown Wailuku is within walking distance and boasts some of Maui's best cafes and restaurants.
Maui Resort Rentals – Luana Villas
Kaanapali, Hawaii
Nestled in one of West Maui's most beautiful resorts, this property allows you to experience island life at its best. You'll have access to shared amenities such as a pool and hot tub, or you can relax on your private 500 sq ft lanai. You'll also be close to several local attractions such as Kahekili Beach Park. There's room for eight guests across three bedrooms.
Best Maui Vrbo for Couples
North Shore Lookout
Makawao, Hawaii
This stunning property is perfect for couples who want a romantic but active getaway. You'll be close to the North Shore's best hiking trails and just 15 minutes drive from the beach. You'll also be able to enjoy a sumptuous pool area and covered lanai seating, ideal for when the stars come out at night. Inside, the property oozes charm, with comfy furnishings and rustic island-themed details.