Everyone dreams of an amazing Hawaiian vacation and there is no better island to explore than the island of Maui. Beautiful beaches, towering mountains, excellent food, and fun around every corner make Maui one of the most sought-after vacation destinations. From world-class accommodations and romantic escapes to family-friendly fun, there is plenty to see and do on the island.
If you're looking for an upscale experience, you'll be spoilt for choice in Maui. There are plenty of stunning rental options scattered across the island to choose from. Here are what we think are the best Maui luxury rentals.
All listings featured in this article are carefully selected by our editors. We may earn a commission when you buy something through our links at no cost to you.
Best Vrbo Maui Luxury Rentals at a Glance
Check out our roundup of the best Vrbos in Maui.
Vrbo Maui Luxury Rentals – Best Of
Best Villa: Kaanapali Luxury
Kaanapali, Hawaii
Hawaiiana Hale is at the top of the luxury list when it comes to homes on Maui. Panoramic views of Ka'anapali Beach, lush gardens and so much more await you at this property. Featuring 4 bedrooms and 5.5 bathrooms, this home features several seating areas, plenty of hand-carved creations throughout the home, a gourmet kitchen and formal dining area, and an incredible pool that just beckons you to relax. Make sure you check out the fully equipped exercise room while staying here. This is one home you won't want to leave.
Read next: Our Top Picks for Maui Hotels on the Beach
Best for Groups: Oceanfront Luxury Vacation Home
Downtown Lahaina, Lahaina, Hawaii
Perfect for families looking for a beachfront rental, this 4 bedroom, 4 bath townhome is situated right on the ocean at the popular Hot Sands. Centrally located near beautiful Lahaina Town and historical Front Street, this property offers an open floor plan with plenty of room to spread out. Our favorite feature is the second-floor master suite featuring a private sundeck overlooking the ocean and neighboring Lanai and Molokai.
Best for Families: Luxury Home in Launiupoko
Historic Lahaina Front Street, Lahaina, Hawaii
Privacy in paradise, this 3,000 square foot home is beautifully situated on 1.5 acres of tropical gardens and luscious fruit trees. With room for up to 6 guests, this 3 bedroom, 3 bath home features an expansive great room with access to a spacious lanai and unobstructed views of the ocean and neighboring islands. From the master suite wing to the spacious loft complete with pool table, wet bar, and Eurolounger, this home is fully equipped to guarantee luxury and fun. Our favorite feature of this property is the outdoor pool area complete with a jacuzzi and outdoor shower made from lava rock and area foliage.
Best Maui Villa Rentals
Historic Lahaina Front Street Villa
Historic Lahaina Front Street, Lahaina, Hawaii
History buffs will love this property. With over 4,000 square feet of living space, this 6 bedroom, 4.5 bathroom home is just a hop, skip and jump from all that Lahaina has to offer. This gated villa offers an open floor plan, fully equipped kitchen, and everything you need to feel luxurious and right at home all at the same time. Our favorite feature is the spacious jacuzzi tub located in the master bathroom. Elegance and function make this home one not to be missed.
Oceanfront Luxury Villa
Photo credit: Vrbo
Kihei, Hawaii
This newly constructed, luxury villa features 8 bedrooms and 6.5 baths. With room for up to 18 guests, this beachfront property features an open floor plan with plenty of space for the whole crew. Steps from the beach and only a short walk from great restaurants, shopping, and activities, this property is a great place to call home while visiting Maui.
Kaanapali Beachfront Home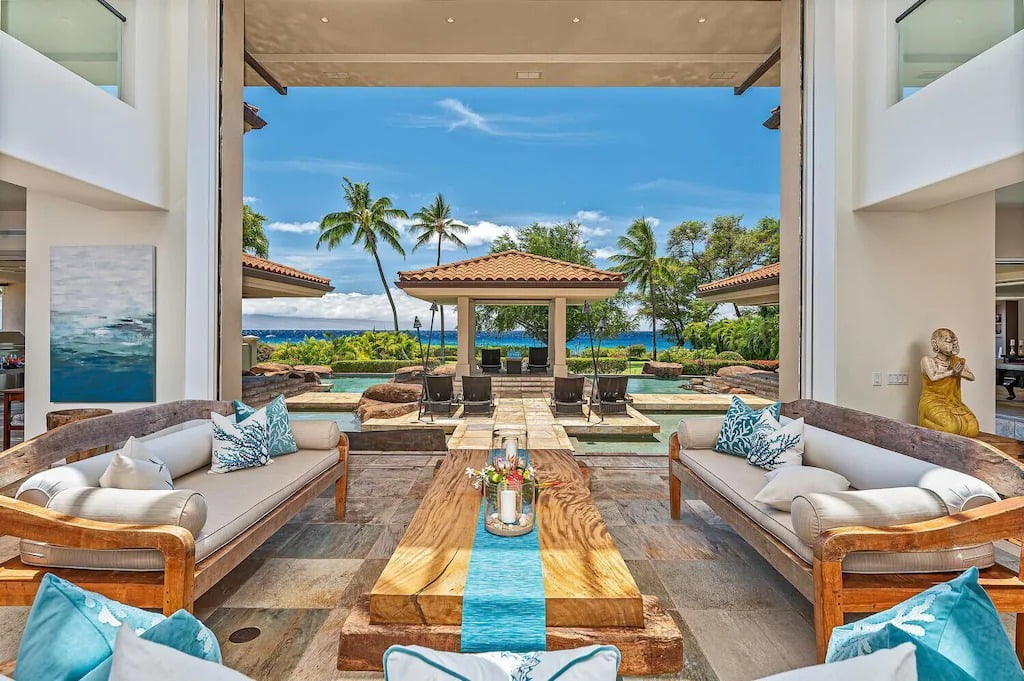 Kaanapali, Hawaii
When it comes to Maui luxury villas, this property is at the top of the list. This luxurious estate features 8 bedrooms, 9.5 bathrooms, and plenty of room for up to 16 guests. With 11,000 square feet situated right on the ocean, this home features everything you would expect from 5-star accommodations. An Asian-style courtyard complete with waterlilies greets you as you arrive in this beautiful villa. Featuring an indoor chef kitchen and an outdoor cooking area, a beautiful lanai, and so much more, this home is perfect for those looking for the ultimate luxurious Hawaiian get-a-way.
Pauwela Luxury Villa
Pauwela, Hawaii
One of the most exclusive Vrbo properties in Maui is this 9 bedroom estate. Situated on a beautiful 20-acre arboretum, this property will make you feel like royalty. Lush gardens, plenty of space, a relaxing pool, and so much more will make you want to leave home and never return. With room for up to 20 guests, this home is perfect for large families or corporate gatherings.
Best Maui Luxury Rentals for Families
Bella mare at Puamana Lahaina Maui
Historic Lahaina Front Street, Lahaina, Hawaii
Quaint and well-appointed this beautiful 2 bedroom, 3 bathroom home has everything you need for a great vacation. With room for up to 4 guests, this home features high-end artistic furnishings which guide you to feeling right at home the moment you enter. Located right on the beach with access to paddle boarding, snorkeling, and so much more, this home has everything for an amazing Hawaiian adventure.
Luxurious Breathtaking Ocean Views
Wailea, Kihei, Hawaii
Cozy, yet elegant, this 2 bedroom, 2 bathroom condo boasts over 2400 square feet of living area and a spacious lanai offering up some of the best ocean views in Maui. With easy access to the beach, this ground floor unit combines luxury, privacy, and beauty with access to the best beaches activities, and shopping Maui has to offer. Stone tile floors, granite countertops, and beautifully hand-crafted furniture make this the perfect escape for an intimate Hawaiian getaway.
Best Group Maui Luxury Rentals
Wailea Beach Villas
Wailea, Kihei, Hawaii
Modern living at its best, this 3 bedroom, 3.5 bath home is perfectly situated in one of the best areas of Wailea Beach. Guests staying here have access to two pools on the property as well as plenty of shopping and restaurants. Located steps from the beach, this property is the perfect home base for a great beach vacation.
Napili Luxurious Oceanfront Beach Home
Napili, Napili-Honokowai, Honokowai, Hawaii
Maui luxury vacation rentals come in many shapes and sizes and this next property is no exception to the rule. Three bedrooms and 5 baths and situated directly on the ocean make this home one that dreams are made of. View nesting sea turtles from one of two lanais, enjoy a swim in the ocean right from the front porch, or enjoy the resistance swimming pool and full-size jacuzzi. This property also comes equipped with exercise equipment and a sauna on site. After a great day of fun in the sun, enjoy cooking a great meal in the fully equipped chef's kitchen. With room for six, this property is great for family or friends.
Beach Front St. Lahaina
Downtown Lahaina, Lahaina, Hawaii
When it comes to Maui villa rentals, this property is one not to miss. With room for up to 12 guests, this 4 bedroom, 3 bathroom property features indoor and outdoor living spaces, two homes to combine into one spacious experience, and all the amenities you would expect from a luxury rental property. The main house features 3 bedrooms and a mother-in-law studio cottage with one bedroom and bath is situated a short 15 feet away, making this a great escape for the whole family. Steps from the beach and Lahaina Harbor where there is plenty of surfing, fishing, and outdoor fun, this home is perfect for enjoying the ultimate Hawaiian vacation.