A romantic getaway can be just the thing for couples looking to relax and spend some well-deserved time together. Whether it's your honeymoon, anniversary, or just a regular weekend, the perfect getaway is a sure way to make lasting memories.
To aid in your search, we've scoured hundreds of Airbnbs and selected the most romantic Airbnb Getaways in the U.S. From being immersed in nature in fairy-like treehouses to snuggling up in a cozy A-Frame in the woods, here are our picks for the most romantic getaways in the States.
All listings featured in this article are carefully selected by our editors. We may earn a commission when you buy something through our links at no cost to you.
Best Romantic Airbnb Getaways in the U.S. at a Glance
Read next: 23 Dreamy Treehouse Glamping Rentals You Need to Experience
Romantic Airbnb Getaways in the U.S. – Best Of
Most Romantic Treehouse: Secluded Intown Treehouse
Atlanta, Georgia
The last thing you'd expect to find in a metropolitan city like Atlanta is a forest treehouse worthy of fairytales. The Intown Treehouse, one of the best Airbnbs in Atlanta, is just minutes from downtown but tucked away in a secluded property that will make you feel miles away from the hustle and bustle. This romantic Airbnb consists of three separate spaces, centered on the themes of body, mind, and spirit. This treehouse is truly the place to connect with yourself, nature, and each other.
Best Romantic Cabin: Canyon Creek Cabins
Granite Falls, Washington
Architecture meets nature in this rustic state-of-the-art A-Frame cabin. Located less than an hour from Seattle, it's our top pick for the most romantic cabin getaway. The cabin overlooks a river and the Cascade Mountains. Spend time together with your loved one with the background sounds of the river, enjoy the sky through the large geometric windows, or soak in the hot tub in the evening. The cabin is close to numerous trails and is ideal for adventurous couples who enjoy spending time outdoors.
Other Gorgeous Romantic Airbnb Getaways
Lilla Norr A-Frame in the Woods
Brook Park, Minnesota
Enjoy nature and history on this A-frame cabin in Minneapolis. Lilla Norr, which means "Little North" in Swedish is a 1978 cabin nestled on 5 acres of river land along Snake River. This cozy cabin is ideal for couples who love the wilderness and exploring. Located just on the river, there is plenty to do. Activities include fishing, kayaking, and swimming.
Tye Haus A-Frame Cabin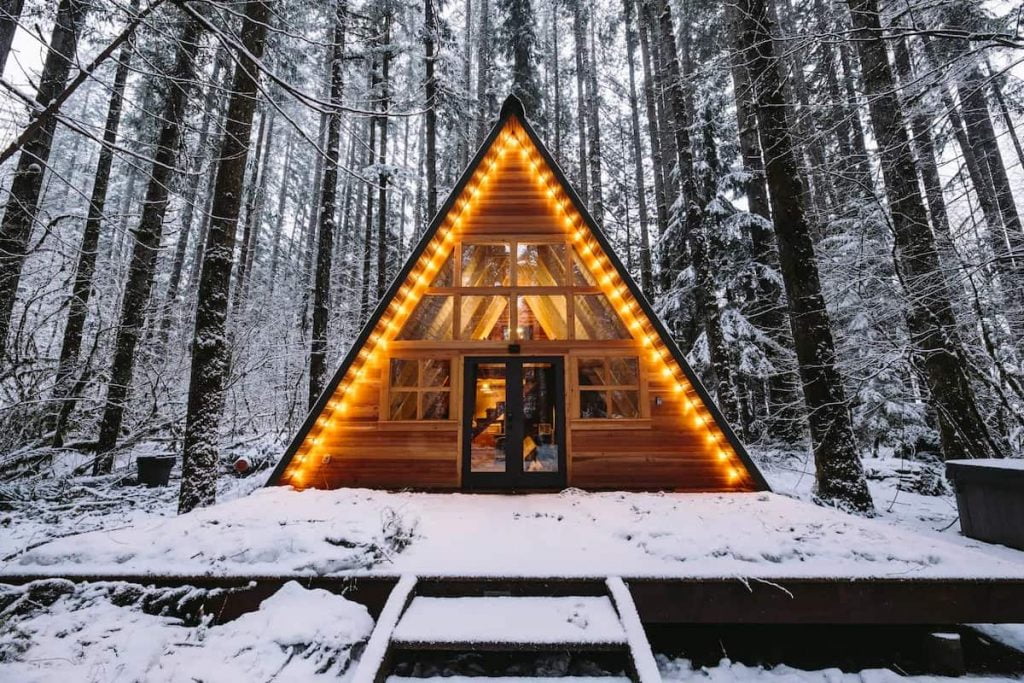 Skykomish, Washington
A-Frame cabins are arguably the ultimate romantic getaway destination. If you agree, the Tye Haus won't disappoint. Located in the Timber Lane Village, this cabin is the perfect escape all year round. There's easy access to the slopes during winter and hiking trails for long scenic walks during the summer. The property also has a private beach and picnic tables.
Live Oak Treehouse at HoneyTree Farm
Fredericksburg, Texas
This luxury treehouse on the Pato Alto Creek was built with couples looking for a relaxing romantic weekend getaway in mind. It features a hammock for resting on a lazy day, a reading nook where you can enjoy the view of nature, and an outdoor candle-lit bathtub (that also converts to a hot tub) – the perfect way to unwind at the end of the day. The bedroom's netted king bed with background fairy lights is outright dreamy.
Bolt Farm Luxury Treehouse & Retreat
Walhalla, South Carolina
Luxury and magic infuse in this one-of-a-kind treehouse. You'll fall in love with the impeccable details that make up this award-winning Treehouse. Amenities include delicious locally roasted coffee, heating and AC, and if you're lucky you'll be able to sample the seasonal muscadines from the Tiny Vineyard. The Bolt farm also features 40 acres of garden and forest, suitable for hikes, romantic walks, the occasional jog, or biking.
Due to the high demand for this property, they have a system of releasing dates on the 15th of each month, so everyone has a fairer chance of getting a coveted reservation. Check this listing to get more info.
Tiny Geopod Outdoor Oasis
Todd, North Carolina
Have you ever dreamt of sleeping in a dome in the forest? Bring that dream to life at this unique Airbnb set in North Carolina. This Tiny Geopod, also nicknamed Tiny Pod has three outdoor spaces, including a private hot tub, fire table, and a gazebo. With an emphasis on sustainability, the Geopod is solar-powered, and the property composts and recycles waste.
Forest camping Hut
Elk, California
This treehouse in Northern California is a goldmine if you are seeking chic decor, tranquility, and serenity. We love the environmental consciousness of the design. The treehouse hosts two with its one bedroom and bath. It is a short drive from Elk and you can enjoy a mind-calming drive to Mendocino along a scenic coastline.
Eagles Perch Treehouse
Todd, North Carolina
Rustic aesthetics come to life in this one-of-a-kind treehouse located in North Washington. Overlooking the Strait of Juan De Fuca, the house is made of and is supported by cider, so expect a piney aura when you step in. The structure hosts four people on the two sides of the treehouse i.e., the Eagles Perch and the Eagles nest. There is a bike trail for the lovers of the outdoors and a cozy reading nook, perfect for rainy days and evenings.
Dreamy Tiny House Cottage in Tennessee
Nashville, Tennessee
What this magical little house lacks in space, it delivers in ambiance. The tiny house has a vintage vibe with a modern hint of technology in its appliances. Featuring loft a loft bed and a vintage claw-foot tub, this dreamy Airbnb is full of character. Accommodating two, it is perfectly secluded, ensuring privacy and nature for lovebirds.
Glass Cabin in the Woods
Photo credit: Airbnb
Marlboro, New York
This cabin in Hudson Valley will throw you right into the romantic movie setting. The house can host four so it's perfect for double dates. Set in six acres of woodland, privacy is guaranteed for your getaway. The glass windows and walls will have you watching nature day and night. The cabin is also surrounded by many towns with plenty of activities for couples who love exploring.
The Box Hop
Rockbridge, Ohio
Looking for the most romantic Airbnb for a group? These shipping containers will ship you away into nirvana. It can accommodate eight, in case you plan a couple's retreat with friends. The cabin has a cozy interior setting and a rooftop for a fun day and a starry night experience. Enjoy nature from here by exploring all the 18.5 acres surrounding this romantic getaway. Wake up to birds chirping and sleep to the whispers of the wind.
Fox Hill Cabin Getaway
Cresco, Pennsylvania
If romantic getaways and outdoor activities are one and the same to you, this is the perfect spot for couples who want to completely disconnect. The cabin doesn't have wifi, but has plenty of outdoor activities to make up for it. Couples can enjoy nature walks around the 6-acre property. They can also kayak on the stream, swim, or snuggle next to the outdoor firepit as they listen to the stream.