Key West, Florida, is a destination that truly has it all – a blend of natural beauty, historical charm, tropical ambiance, and some of the most luxurious and hospitable resorts in the world. Each Key West resort has its unique charm, yet all share a commitment to quality, comfort, and an unparalleled guest experience.
From private beaches and infinity pools to gourmet dining and rejuvenating spas, these resorts cater to a variety of tastes and preferences. Over the years, I've experienced first-hand the magic that these best Key West resorts offer, and it's a pleasure to share these insights with you. Whether you're planning a romantic getaway, a family vacation, or a solo adventure, these handpicked resorts guarantee an unforgettable Key West experience. Let's explore the best that Key West has to offer together.
All listings featured in this article are carefully selected by our editors. We may earn a commission when you buy something through our links at no cost to you.
Best Key West Resorts at a Glance
Check out our roundup of the best Airbnbs in Michigan.
Key West Resorts – Best Of
Best for Couples: Casa Marina Key West, A Waldorf Astoria Resort
Key West, Florida
Casa Marina, a Waldorf Astoria Resort, is a seamless blend of historical charm and contemporary luxury. Stepping into Casa Marina is like stepping into a grand era gone by, with its soaring archways and Spanish-Mediterranean aesthetic. But don't let the historical façade fool you; inside, you'll find spacious rooms equipped with the latest amenities designed for a comfortable stay.
The resort is renowned for its 1,100 feet of private beach — the largest in Key West. Experience the thrill of watersports, or choose to lounge by one of the two sparkling pools with a refreshing cocktail. Dining is an experience to cherish at Casa Marina, with its Sun Sun Beach Bar & Grill offering open-air dining and unparalleled ocean views.
Best Luxury: Pier House Resort & Spa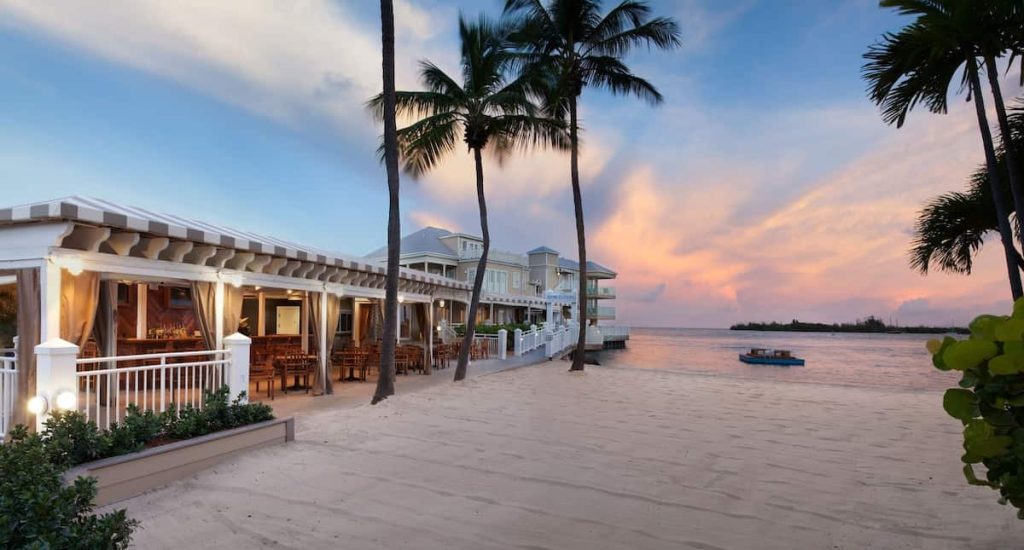 Key West, Florida
The Pier House Resort & Spa offers a slice of tropical paradise, effortlessly blending the free-spirited ambiance of Key West with a touch of luxurious tranquility. The rooms are tastefully adorned, mirroring the tropical charm with modern sophistication. Choose a room with a private balcony for an unforgettable view of the Gulf of Mexico.
While at Pier House, take a dip in the private white sand beach or the outdoor pool. Rejuvenate at the full-service spa, where a variety of treatments promise to refresh your body and spirit. The dining options, including the award-winning HarbourView Café, serve delicious cuisine and cocktails with a side of spectacular sunsets.
Best Beachfront: The Reach Key West
Key West, Florida
Nestled on one of the most captivating Key West beaches, The Reach Key West stands as one of the best Key West resorts, offering a beachfront escape like no other. The newly reimagined rooms and suites provide a sanctuary of tranquility, with a soothing color palette and beach-inspired décor. They offer splendid views of either the tropical courtyard or the beautiful ocean, making it a perfect place to relax and rejuvenate.
Experience a unique Key West dining experience at Four Marlins, the resort's oceanfront restaurant. The menu features fresh local ingredients with a modern interpretation of classic Floridian flavors. The Reach also offers a variety of watersports, a fitness center, and a zero-entry pool overlooking the Atlantic Ocean, giving you the ultimate Key West experience.
Best for Families: Parrot Key Hotel & Villas
Key West, Florida
Nestled in a serene location amidst lush tropical gardens, Parrot Key Hotel & Villas offers a tranquil getaway. Stay in stunningly appointed rooms and villas that feature artwork by local painters and panoramic views of the resort's gardens or the sparkling Gulf of Mexico.
Relax by one of the four dazzling swimming pools, each tucked into its own garden paradise. For dining, visit The Grove Kitchen & Bar for a unique open-air dining experience. From al fresco breakfast to poolside lunch and dinner under the stars, you can savor the flavors of Key West in a picturesque setting.
Other Stunning Key West Resorts
Southernmost Beach Resort
Key West, Florida
At the Southernmost Beach Resort, the end of the US feels like the beginning of paradise. From the moment you step in, you're welcomed by the resort's tranquil and luxurious ambiance. Bask in the tropical warmth as you stroll through lush gardens or unwind on private beaches, perfect for capturing Instagram-worthy sunset moments. Indulge in Southernmost's elegant rooms, designed to immerse you in a breezy, beachfront atmosphere while providing modern comforts.
While there, make sure to try the two oceanfront pools, the spa, and excellent dining options. Southernmost's culinary experiences are a delightful journey, with the Southernmost Beach Café serving delicious dishes using locally sourced ingredients. Its prime location also allows you to easily explore Key West's vibrant Duval Street and historic Old Town.
Ocean Key Resort & Spa
Key West, Florida
Located at the point where the Atlantic Ocean meets the Gulf of Mexico is Ocean Key Resort & Spa, a paradise offering stunning vistas. Its vibrant décor captures the essence of Key West's sunsets, water, and sky. The rooms, or 'suites' as they call them, are spacious and filled with natural light, perfect for a romantic escape or a family adventure.
No visit to Ocean Key would be complete without a visit to their award-winning spa, SpaTerre. Here, exotic Balinese spa treatments and Thai body rituals are custom-designed to replace the weight of the world with the feeling of utter relaxation. At the Ocean Key, you can also savor delightful cuisine at the waterfront restaurant, Hot Tin Roof, while taking in the breathtaking views of Sunset Pier.
Hyatt Residence Club Key West, Beach House
Key West, Florida
The Hyatt Residence Club offers a unique Key West experience that feels just like home — but better. Located on the secluded shoreline of Key West's eastern coast, the resort offers spacious residential-style accommodations perfect for family vacations or extended stays. The decor captures the vibrancy of Key West with a touch of contemporary elegance.
Beyond the accommodations, the Hyatt Residence Club offers a private beach, a lagoon-style pool, and a spa tub. You can engage in activities like dolphin watching, fishing, or diving or simply relax on the beach and soak up the Florida sun. This resort provides a serene and relaxing Key West experience.
Ibis Bay Beach Resort
Key West, Florida
Experience Key West's original 1956-style resort updated with modern amenities and comforts at Ibis Bay Beach Resort. Its fun and brightly painted rooms, designed with a nod to Key West's rich history, offer a delightful retreat. With hammocks on the beach and beautiful views of Ibis Bay, you'll find the perfect spot to unwind.
Dive into a range of watersports, from paddleboarding to jet-skiing, or explore the world beneath the waves with diving and snorkeling trips. Don't miss the chance to enjoy a meal at The Stoned Crab restaurant, which offers the freshest seafood and famous Key West pink shrimp.
The Perry Hotel Key West
Key West, Florida
The Perry Hotel Key West offers an oasis on the private 220-slip Stock Island Marina. With a blend of industrial architecture and minimalistic design, its rooms and suites offer comfortable and stylish accommodations. Each room boasts floor-to-ceiling windows and private balconies with captivating views of the marina.
The Perry Hotel's exceptional services extend to dining, with three waterfront restaurants serving fresh, innovative cuisine. From the mouthwatering brunch at Matt's Stock Island Kitchen & Bar to the fresh seafood and crafted cocktails at The Salty Oyster Dockside Bar & Grill, your taste buds are in for a treat. Plus, with two waterfront pools and a myriad of marina activities, you'll have everything you need for an unforgettable stay.
The Gates Hotel Key West
Key West, Florida
The Gates Hotel Key West is a chic, boutique hotel that brings the charm of Key West to life with its unique contemporary design and cultural offerings. Stay in sophisticated, minimalist rooms equipped with modern amenities, designed for comfort and convenience. Many rooms offer views of the tropical landscape or the inviting pool area.
Immerse yourself in Key West's vibrant culture with The Gates' local music and art showcases. The hotel's Rum Row pool and lounge offer a place to relax and sample a selection of local rums. With food trucks serving local cuisine and a shuttle to Old Town, The Gates provides a vibrant and authentic Key West experience.
Havana Cabana at Key West
Key West, Florida
Experience the vibrant spirit of Cuba at Havana Cabana at Key West. This resort immerses you in the culture of the island with its lush tropical landscape, island-inspired rooms, and the largest pool in Key West. Each room features handcrafted furnishings and a private patio or balcony.
Take a ride around Key West in a vintage 1957 Chevy or simply lounge by the pool with a Mojito in hand from the Mojitos Pool Bar. Their Floridita Food Truck serves a delicious blend of Cuban and American cuisine. The resort also offers a complimentary shuttle service to famous Key West locations.
Oceans Edge Key West Resort, Hotel & Marina
Key West, Florida
Oceans Edge Key West Resort is a slice of paradise located between the Atlantic Ocean and the Gulf of Mexico. Its suites and rooms, all with water views, are bright and breezy, providing an ideal setting for relaxation after a day of exploration.
Oceans Edge is the only resort in Key West that offers a marina, making it a perfect choice for boating enthusiasts. It also features six swimming pools and a waterfront bar and restaurant, Yellowfin Bar & Kitchen, which serves delicious local cuisine. With an on-site watersports facility, you can enjoy activities such as fishing, diving, and snorkeling.
Hyatt Centric Key West Resort and Spa
Key West, Florida
The Hyatt Centric Key West Resort and Spa is a luxury waterfront resort that offers a tranquil retreat in the heart of Key West. Stay in spacious rooms that blend comfort with island-inspired elegance, all featuring private balconies with breathtaking views of the Gulf of Mexico.
Relax in the resort's pool, soak in the hot tub, or pamper yourself at Jala Spa, where treatments are inspired by the healing properties of the sea. You can also enjoy Floridian cuisine at SHOR American Seafood Grill, which offers fresh, locally sourced dishes. Its central location allows easy access to Duval Street and other popular attractions in Key West.
The Laureate Key West
Key West, Florida
Looking for a touch of luxury during your Key West vacation? Look no further than The Laureate Key West. Each room is a spacious suite, offering an elegant, modern, and home-like atmosphere that appeals to families and couples alike. Many suites offer views of the beautiful blue waters of the Gulf of Mexico.
Besides its comfortable accommodations, The Laureate is conveniently located just a short drive away from Key West's vibrant Old Town. Its close proximity to famous attractions like the Ernest Hemingway Home and Museum, Key West Butterfly and Nature Conservatory, and Duval Street makes it an ideal choice for your stay in Key West.