Colorado – where the sky meets the Rocky Mountains and the breathtaking landscapes offer a taste of nature's grandeur. It's a destination that's more than just about exploring scenic trails and skiing down thrilling slopes. It's about discovering the state's distinctive, top-tier accommodations that can turn a good vacation into an unforgettable experience.
These aren't your run-of-the-mill, four-star city hotels. Nope, we're talking about the cream of the crop, those exceptional places where luxury finds its home in the heart of Colorado's diverse beauty. From hidden mountain lodges enveloped in tranquility to extravagant urban havens that boast world-class amenities, we've got the scoop on the best luxury hotels in Colorado.
So, whether you're a luxury travel veteran, or you're planning that once-in-a-lifetime splurge, I've got you covered. Let's dive into the Colorado luxury hotel scene together.
All listings featured in this article are carefully selected by our editors. We may earn a commission when you buy something through our links at no cost to you.
Luxury Hotels in Colorado
Hotel Jerome, An Auberge Resort, Aspen
Aspen, Colorado
Nestled in the heart of Aspen, the historic Hotel Jerome offers a blend of rustic charm and opulent sophistication. Your stay here is a step back in time, with rooms filled with antique finishes, grand fireplaces, and vintage-inspired decor, all designed to capture the spirit of the Old West. Dine at the renowned on-site restaurant, Prospect, for its innovative American cuisine, and afterward, sip a cocktail at the infamous J-Bar, a favorite local haunt since the 19th century.
You might expect such an established venue to feel stuffy, but it's quite the opposite. The Jerome maintains a lively ambiance, with friendly staff who ensure you feel more than just a guest. Beyond the hotel's rich history and comfort, their Auberge Spa, an intimate sanctuary, awaits to revitalize your senses. Engage in one-of-a-kind experiences, such as the signature Oxygen Inhalation Therapy, after an adventurous day exploring Aspen's stunning landscapes.
Read next
Madeline Hotel and Residences, Telluride
Telluride, Colorado
Your time at Madeline Hotel and Residences in Telluride will be one of comfort and adventure. This luxurious basecamp perfectly encapsulates the spirit of the Colorado outdoors, making it the perfect weekend getaway. Guestrooms and suites alike are steeped in contemporary elegance and the warmth of a mountain retreat. The M Lounge, the hotel's high-altitude living room, is an inviting space to unwind with your choice of expertly crafted cocktails.
But luxury at Madeline is not just limited to its architecture and interiors. Adventure is a part of their package. Get your adrenaline pumping with a day on the slopes, mountain biking, or rock climbing, then return for some world-class relaxation at the Sky Terrace, a heated outdoor pool, and hot tubs with mountain views. Madeline Hotel and Residences embraces the quintessential Colorado experience of enjoying the great outdoors and still living in luxury.
Sonnenalp Hotel, Vail
Vail, Colorado
As a beacon in the landscape of luxury hotels in Colorado, the Sonnenalp Hotel in Vail seamlessly marries European heritage with American West style, also an iconic Colorado honeymoon destination and weekend getaway. Step inside and be greeted by a fireplace that warms a grand lobby adorned with wooden accents, exuding an ambiance of coziness and authenticity. The unique Bavarian-inspired suites with custom-made furniture, heated floors, and private balconies offer a blend of comfort and luxury that's hard to resist.
Don't miss dining at their renowned restaurant, Ludwig's, which serves a delightful mix of European and Coloradoan fare, often with a sustainable twist. For those who enjoy hitting the slopes, the Sonnenalp Ski Concierge service will ensure you experience Vail's ski terrain with ease. After a day of adventure, indulge yourself at the Sonnenalp Spa, a sanctuary where expert masseuses soothe your tired muscles, leaving you revitalized and ready for your next Colorado escapade.
St. Regis Aspen Resort
Aspen, Colorado
No visit to Aspen would be complete without experiencing the luxury of the St. Regis Aspen Resort. Boasting an impressive blend of classic luxury and modern comfort, this is one of the best resorts in Colorado. Your room will be a haven of plush elegance with custom furnishings and stunning views that celebrate Aspen's alpine aesthetic.
The resort's renowned Remède Spa is a must-visit, offering a wide array of treatments designed to relieve stress and rejuvenate the senses. For the foodies, dining at the St. Regis is a gastronomic delight, from savoring an expertly crafted cocktail at the Mountain Social Bar and Lounge to indulging in the finest local produce at Velvet Buck. Engage in curated experiences such as gondola rides and hiking trips, creating unforgettable memories that blend the beauty of Aspen with the luxury of St. Regis.
The Broadmoor, Colorado Springs
Colorado Springs, Colorado
A timeless beauty, The Broadmoor in Colorado Springs, is an iconic symbol of luxury. Overlooking Cheyenne Lake, this Italian Renaissance-style hotel promises a stay of elegance, romance, and adventure. The rooms are beautifully decorated, with a blend of classical and modern styles, offering a unique charm that captures the heart of every visitor.
The Broadmoor isn't just a place to lay your head—it's an experience. With over 20 restaurants, cafes, and bars on-site, every meal becomes a memorable moment. Dine at the opulent Penrose Room for a lavish gastronomic experience or enjoy an evening at La Taverne for live entertainment and superb steaks. If you're an active traveler, you'll enjoy the Broadmoor's three championship golf courses, the infinity swimming pool, or a relaxing session at the lavish spa. The Broadmoor is more than just a hotel—it's a legend in Colorado hospitality.
The Little Nell, Aspen
Aspen, Colorado
When you're looking for luxury that is as vibrant as Aspen itself, The Little Nell is a compelling choice. Nestled at the base of Aspen Mountain, this hotel gives you direct access to Aspen's most famed outdoor adventures. The rooms are airy and light-filled, blending modern style with mountain comfort, and offering stunning views of the mountain or the quaint town.
But there's more to the Little Nell than just its stellar location and welcoming rooms. Their commitment to world-class service, exquisite dining, and providing unique experiences truly set them apart. Enjoy an intimate dinner at Element 47, where a delightful fusion of Colorado ingredients meets the finesse of global culinary techniques. Then allow their dedicated concierge team to organize your outdoor adventures, from mountain biking to skiing, or even a private jeep tour to the scenic Maroon Bells.
The Ritz-Carlton Bachelor Gulch, Avon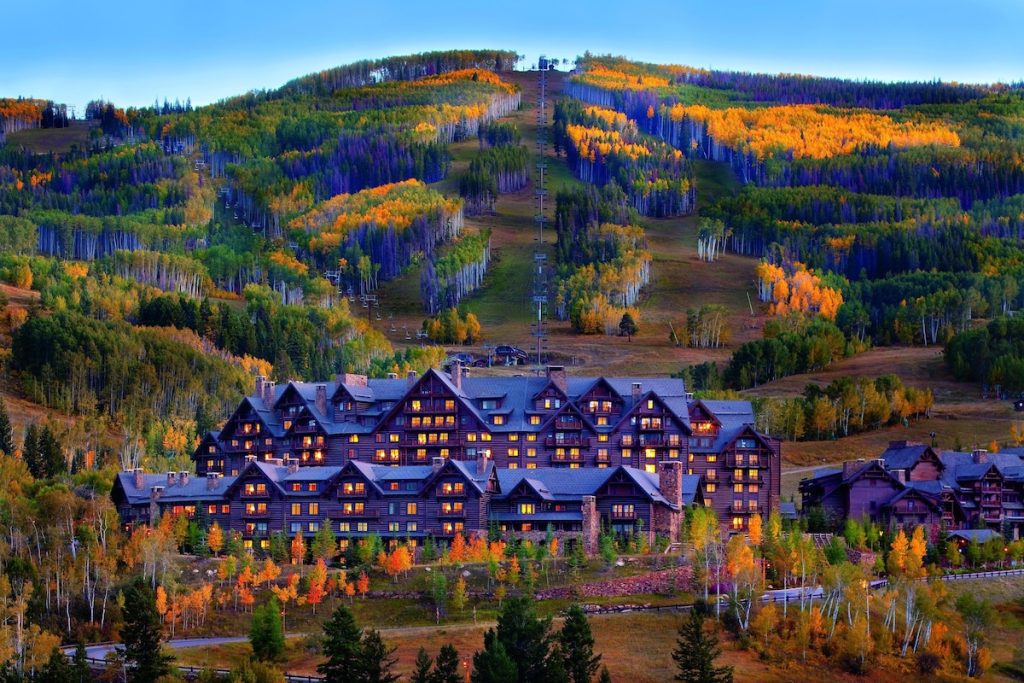 Avon, Colorado
A rustic retreat with a touch of grandeur, The Ritz-Carlton Bachelor Gulch is the epitome of mountain luxury hotels in Colorado. Nestled on the side of Beaver Creek Mountain, this hotel gives you direct ski-in, ski-out access. Enjoy a stay in the elegantly appointed rooms, where stone fireplaces and deep soaking tubs evoke a sense of Colorado's sophisticated mountain culture.
Beyond its beautiful accommodations, the hotel offers a distinctive approach to dining and wellness. Dine at WYLD for a unique culinary experience that draws inspiration from Colorado's natural abundance, or enjoy a fireside cocktail at Bachelors Lounge. After an exciting day on the slopes, retreat to the spa—an oasis of tranquility where you can relax, unwind, and soak in the panoramic mountain views.
The Ritz-Carlton, Denver
Denver, Colorado
When you choose to stay at The Ritz-Carlton, Denver, you're choosing urban luxury in the heart of Colorado's capital city. Offering the largest guest rooms in the city, adorned with marble baths and panoramic views of the Denver skyline or the Rocky Mountains, comfort takes center stage.
But the true allure of the Ritz-Carlton Denver goes beyond its grand accommodations. Their on-site restaurant, ELWAY'S Downtown, offers mouth-watering steakhouse cuisine and a fine selection of wines. After a busy day exploring Denver, the spa at the Ritz-Carlton offers a serene retreat with a selection of holistic treatments designed to soothe and rejuvenate.
The Sebastian, Vail
Vail, Colorado
The Sebastian in Vail is a boutique hotel that creates a seamless blend of approachable luxury with a splash of whimsical creativity. Each room offers a unique balance of chic and inviting décor, with rich wood finishes and comfortable seating. But the magic of The Sebastian isn't confined to just the rooms.
Frost, the hotel's bar, offers a lively atmosphere where you can savor your favorite cocktail or discover a new one from their extensive menu. The Sebastian also features an exceptional on-site art collection, a heated outdoor pool, and four hot tubs. Venture into the bustling village of Vail just steps away, or take advantage of the ski-in, ski-out access for a fun-filled day on the slopes.
Crawford Hotel
Denver, Colorado
Immerse yourself in Denver's vibrant culture and history at the Crawford Hotel. Located inside the renovated Denver Union Station, this hotel offers an eclectic mix of vintage and contemporary design, where each guest room tells a different part of the Union Station's story.
The Crawford isn't just a place to sleep—it's a destination. The Great Hall of Union Station, dubbed Denver's living room, is a dynamic community space where you can enjoy a meal or a drink at one of the many restaurants and bars. Explore the rich history of Union Station with a self-guided tour or venture out to the nearby neighborhoods offering a range of activities from shopping to art galleries.
The Ramble Hotel
Denver, Colorado
The Ramble Hotel, situated in Denver's River North Art District, is a marquee destination for travelers seeking a boutique luxury experience. The hotel's 50 rooms are meticulously designed with a blend of classic elegance and modern comfort, with each room offering a sanctuary of calm amid the city's vibrant surroundings.
While at the Ramble, visit Death & Co, the hotel's flagship bar, for a cocktail experience that's gained international acclaim. Enjoy an eclectic mix of live performances at the hotel's Vauxhall venue, or indulge in culinary delights at their restaurant, Super Mega Bien. The Ramble Hotel offers more than a comfortable stay—it offers an immersive Denver experience steeped in creativity and style.